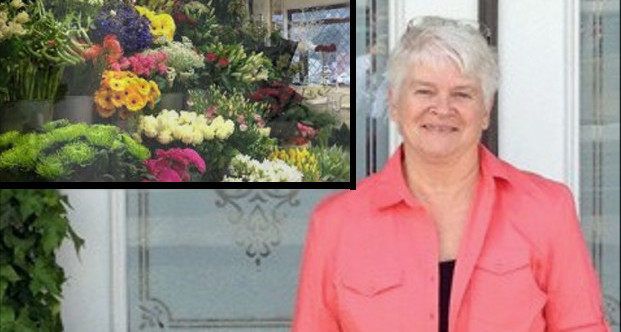 Christian Business takes a Hit:
A Christian Florist and Grandmother who refused to provide flowers for a same-sex wedding because of her Christian Faith has since been sued and (in addition) must pay the legal fees of the gay-couple which could "devastate" her financially and cause her to lose her Home, Business, and Life Savings.
Barronelle Stutzman (70 years old) is the owner of Arlene's Flowers in Richland, Washington. She was found guilty in February of violating a 'non-discrimination' law issued by the State when she referred Rob Ingersoll and Curt Freed (2 homosexual men) to another Florist when they asked her to provide floral arrangements for their wedding.
When asked how she refused the offer, Stutzman simply stated:
"I just took his hands and said, 'I'm sorry. I cannot do your wedding because of my relationship with Jesus Christ,"
Stutzman apparently knew Ingersoll and had provided him with flowers for nearly a decade, however when he asked her to service his same-sex wedding, she simply could not consent because of her religious convictions.
Not long after she denied the request, Ingersoll (one of the homosexual men) took to the Internet to voice his outrage over the 'Discrimination' against he and his boyfriend. The stunt pulled some publicity and eventually made it to the ears of Washington Attorney General Bob Ferguson who eventually filed charges against Stutzman who was later found guilty.
However, God is Mighty.
Because Strutzman stood firm for her faith, Christians from all over the place flooded in to show their support.
A GoFundMe page was created to help her meet her financial obligations — and in less than 2 months, roughly $150,000 was raised to support her. Their goal was $200,000. (which has now been reached)

Isn't God Good? (Share if you Agree)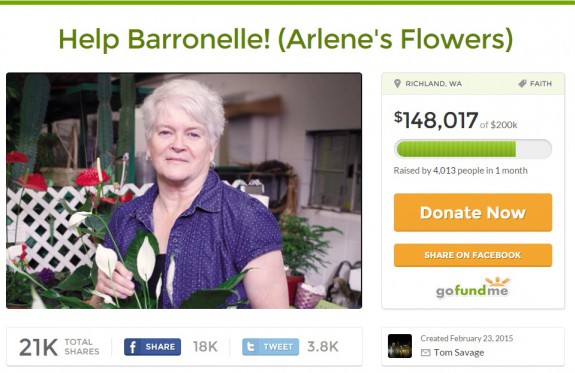 Deon is a Thought-Leader, Philosopher, Researcher, Entrepreneur, Internet marketer, and Social-Media extraordinaire.

After spending years studying the inner workings of the Cyber world, Deon has been given many titles as a direct result of his expertise on a wide array of platforms -- both online and off.

But whether the subject is Marketing, Advertising, Blogging, Branding, Web Metrics, Systems Design, Advanced Social-Media integration, Research, or Investigation -- Deon has definitely earned a prominent name for himself within the cyber community.

However, the only title he actually values is... "Christian"

Latest posts by Deon (see all)