Beyonce Under Fire, Again: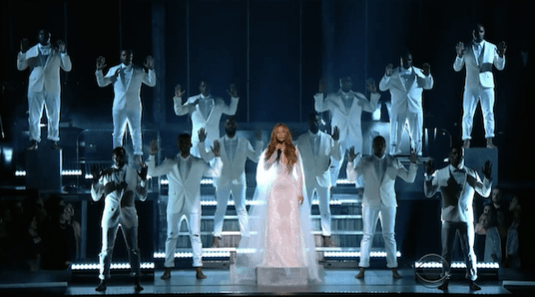 If you watched the 2015 Grammy Award ceremony then you undoubtedly caught a glimpse of Beyonce's "Take my Hand, Precious Lord" performance.
Although I didn't bother to watch — word quickly spread of the award winning singer's "spiritual" performance so of course I was intrigued enough to check it out.
But before we proceed with our analysis,
lets us first make a few observations.
Beyonce's 'Last Supper' scandal
Last year Beyonce faced massive criticism from the Christian community for a picture that she posted to her IG (Instagram) account.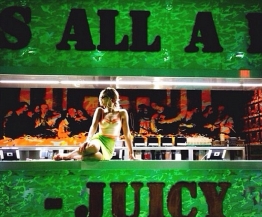 In the picture, the artist took an image of "The Last Supper" (the Biblical account of Jesus's last supper with his disciples), and replaced the image of Jesus with — herself.
In the image, Beyonce can be seen strategically sitting in a manner that deliberately "covered" Jesus from the picture — yet she covered none of his disciples.
Of course this didn't sit well with Christians.
As reported by The Christian Post…
"Beyoncé Knowles has sparked a controversy by posting a picture on her Instagram account, where she can be seen posing in front of a painting that resembles Da Vinci's "The Last Supper," sitting in front of it and apparently covering up Jesus.

Beyoncé drew criticism soon after she posted the picture on Monday. The 32-year-old singing superstar sat centered in front of the painting as if she wanted to replace Jesus in "Last Supper," which is based on the Gospel of John and depicts Jesus' last meal with his disciples"
.

Tim Wildmon, president of American Family Association, made the following statement in response…
"Is nothing sacred anymore? This is clearly an act of disrespect towards Jesus Christ, whom Beyoncé covers up with her pose,"
Continuing…
"This had to be done intentionally. However, you will not see the media condemn her for offending Christians in the same way they did Phil Robertson for offending homosexuals because there is a double-standard. Christians are the only group in America you can bash with impunity."
Beyonce's 2015 Grammy Performance Vs 2014
When I sat watching Beyonce's 2015 performance, I couldn't help but notice the STARK contrast in this performance from the one that she did last year.
This year, Beyonce was painted as some sort of a saint. Last year however, she was everything but.
If you recall, Beyonce faced criticism for her performance last year primarily because she was dressed like — well, like a 'hooker' to be frank.
In her 2014 performance, very little was left to the imagination
Checkout the contrast.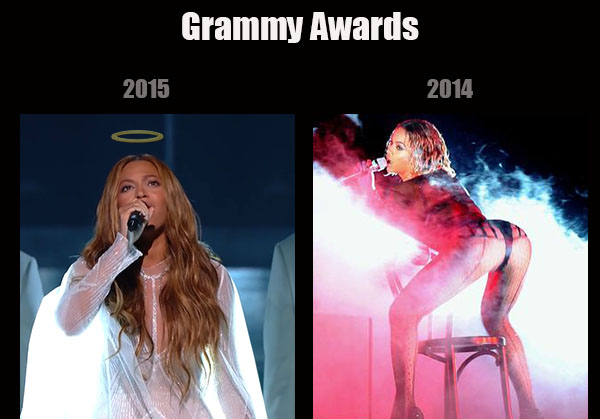 As to be expected, many parents were outraged not only by Beyonce's erotic performance but also by her indecent (for lack of nicer word) apparel.
As a result, angry parents took to social media stating that Beyonce's performance was "Disrespectful" and that she had "no class".
(Checkout some of the responses)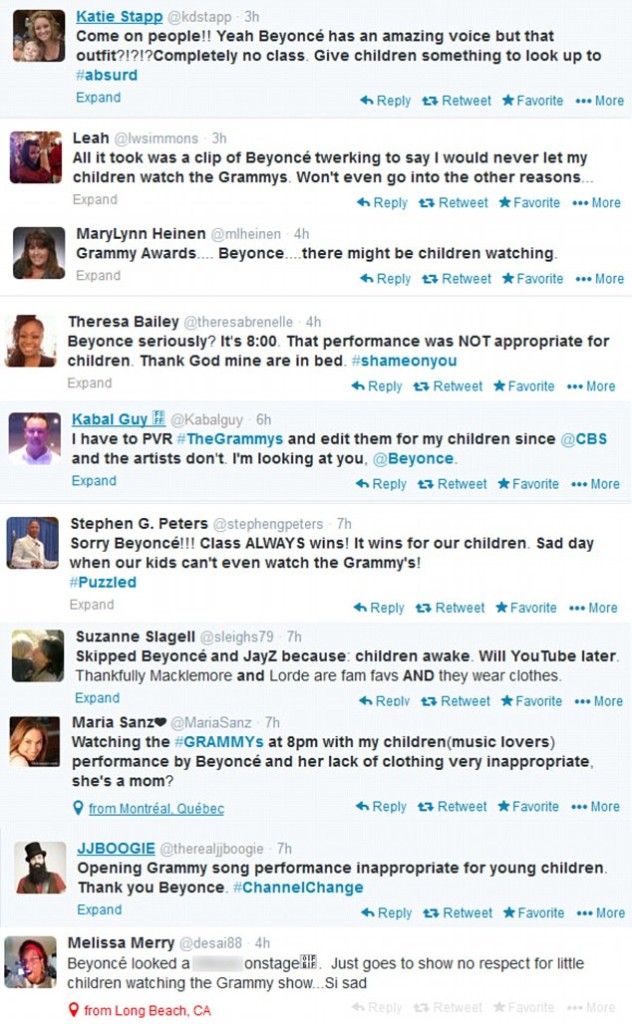 (And those were the Nicer comments)
After Beyonce's 2014 performance, many viewers were anxious (or worried) about what the artist would do this year.
Needless to say — No one saw what was coming.
2015 Grammy: Beyonce 'snubs' Ledisi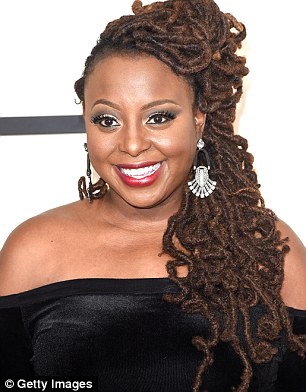 For those unaware, Beyonce performed the "Selma" tribute at the Grammy's this year, however few people know that this tribute was initially set to be performed by Ledisi (who also performed it in the film).
According to sources, Ledisi revealed that she was actually a 'little disappointed' that she was not able to perform "Take my hand, Precious Lord" considering that she had spent a great deal of time and effort into the song.
Yet somehow Beyonce managed to snub the recording artist and seize the spotlight for her shockingly insincere performance. (more on that later)
As reported by Daily Mail…
"Beyoncé has released a video explaining the deep message behind her Selma tribute at the Grammy Awards on Sunday night. However, at no point does the Crazy In Love star mention that original choice Ledisi Young was supposed to sing Take My Hand, Precious Lord as she does in the movie.

Ledisi – who plays iconic gospel singer Mahalia Jackson in the Oscar-nominated movie – has revealed that she was left 'a little disappointed' by the snub, which saw Beyoncé replace her on stage"
Continuing…
"Gwyneth Paltrow had introduced Beyoncé on the evening, saying she was about to sing a song that her mother Tina Knowles had always sung to her as a child.

But Ledisi had spent months mastering the original version as sung by Jackson, and was hoping to repeat her performance in the movie on stage.

She told AP that she was 'a little disappointed' that she was bumped by Beyoncé from the performance, but added that she understood the decision"
However, although Ledisi was 'booted' from performing the tribute — the vast majority of fans agree that Ledisi's performance of the song was far better.
Beyonce: 'Take my hand Lord' | LORD: 'And do what?'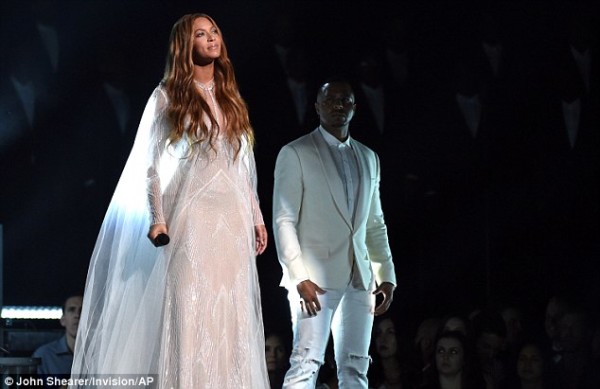 Now, getting right down to the performance.
From the time Beyonce opened her mouth to sing until the time she walked off the stage I sat in utter disbelief.
Not only was Beyonce's performance not very good, but it was also blatantly insincere.
The artist tried so hard to appear as if she was "in the spirit, she even threw in a "shaking hand" to try to help sell it — but it was obvious that no one was buying it.
Anyone with a drop of spiritual discernment could clearly see that her performance was just that — a 'Performance'. In fact, I would argue that even non-Christians could clearly see how insincere her performance was (although it sounded okay).
In the book "Songwriting for Dummies", the writers make an excellent point about Christian music that Beyonce would do well to learn.
"The Christian genre, like many others, is based on authenticity. Just as a true country aficionado can spot an insincere attempt at down-home song writing, and the hip urban crowd can spot a poser from down the block, writing in the Christian field requires true commitment and belief in Jesus Christ."
Although the artist definitely has a nice voice, If I was forced to make a comparison — I would equate Beyonce's performance to a beautiful car that has no engine.
Although it may look good on the surface, there is no power under the hood.

Deon is a Thought-Leader, Philosopher, Researcher, Entrepreneur, Internet marketer, and Social-Media extraordinaire.

After spending years studying the inner workings of the Cyber world, Deon has been given many titles as a direct result of his expertise on a wide array of platforms -- both online and off.

But whether the subject is Marketing, Advertising, Blogging, Branding, Web Metrics, Systems Design, Advanced Social-Media integration, Research, or Investigation -- Deon has definitely earned a prominent name for himself within the cyber community.

However, the only title he actually values is... "Christian"

Latest posts by Deon (see all)