If you have a Facebook account (which 80% of you do) — no doubt you have heard about several "Challenges" that have been circulating the web in which people sometimes do crazy things in response.
As of date, The 2 most popular of the challenges are…
Ice Challenge (Users pour Ice or ice-water on themselves)
Fire Challenge (Users set themselves on fire)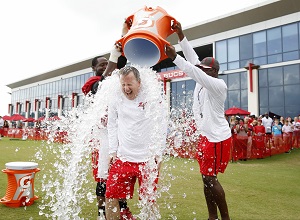 Ice-Challenge
Although the challenges started out as harmless and fun in nature
— We are noticing that each new challenge increases in danger (and borders insanity).
The Ice-Water Challenge simply involves users pouring ice water on themselves.
Apart from receiving a nasty Cold — this is not very dangerous.
However, The Fire-Challenge caught so much attention that it eventually made the news when a mother was Charged when she assisted her son in setting himself on fire.
The 16 year-old boy received minor burns on his chest and neck area but no major Injuries.
After this Incident, Facebook removed all 'fire-challenge' videos in order to prevent other Facebook users from engaging in the idiocy.
The Blasphemy Challenge: Are You Willing to Damn your Soul?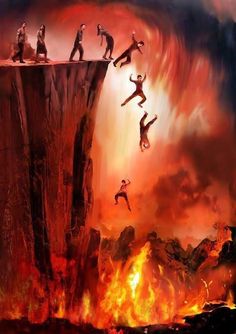 Since then, a NEW challenge has emerged and has drawn a lot of attention online.
In this challenge, people (mostly teens) are dared to participate in the "Blasphemy Challenge" in which they must get on video and openly deny the Holy-Spirit in an attempt to blaspheme God.
Now if you are a Christian, you probably already know why this is something that no sane person would want to do. But for those of you who are not (or don't know), I will explain this further.
Similar Post: Why would a loving God create Hell?
Blasphemy against The Holy-Spirit: What is It?
The Blasphemy Challenge is based off of a passage in the Bible (Mark chapter 3) where The Scribes and Pharisees accused Jesus of casting out devils with the HELP of devils.
(Mark 3:22 GNB) "Some teachers of the Law who had come from Jerusalem were saying, "He has Beelzebul in him! It is the chief of the demons who gives him the power to drive them out."
When Jesus heard what they were saying, He replied using a parable (story)…
(Mark 3:23) So Jesus called them to him and spoke to them in parables: "How can Satan drive out Satan? If a country divides itself into groups which fight each other, that country will fall apart.
(Mark 3:25) If a family divides itself into groups which fight each other, that family will fall apart.
(Mark 3:26) So if Satan's kingdom divides into groups, it cannot last, but will fall apart and come to an end.
(Mark 3:27) "No one can break into a strong man's house and take away his belongings unless he first ties up the strong man; then he can plunder his house.
After Jesus had finished the parable, he then warned the Scribes and Pharisees that they were in danger of being eternally condemned because they were accusing the Holy Spirit of being an evil spirit.
(Mark 3:28) "I assure you that people can be forgiven all their sins and all the evil things they may say.
(Mark 3:29) But whoever shall blaspheme the Holy Spirit will never be forgiven, because he has committed an eternal sin."
(Jesus said this because some people were saying, "He has an evil spirit in him.")
It is this scripture that the "Blasphemy-Challenge" is attempting to provoke. The individuals who participate in this challenge are essentially attempting to condemn their souls for eternity.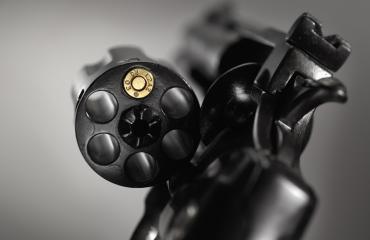 Now I may not be a rocket-scientist, but I am confident that they would be better off participating in the "Russian-Roulette Challenge" in which a bullet is in every chamber than to participate in a Challenge that could essentially forfeit their Eternal Salvation.
Similar Post: I Sinned, Is God Angry with Me?
Can a non-believer blaspheme God?
Fortunately, the people who are participating in this challenge are mostly Atheists and don't believe in God — Therefore the fact that they don't believe in God forfeits their ability to blaspheme him.
Blasphemy is not merely saying something "Negative" about something — It is the complete and utter Rebellion against God even though you are fully aware that you are in Rebellion.
A person cannot blaspheme God if they are Ignorant towards his existence nor can a person "accidentally" blaspheme God. Blasphemy is a conscious decision that can only be made when a person is fully aware of what they are doing.
When Jesus warned the scribes and the Pharisees that they were endanger of blaspheming — he was saying this because they knew full-well who Jesus was. They knew that he was operating under the power of God because of the works that he performed before their very eyes. Yet they rejected him and wanted others to do so as well. (John 9:41)
The Crucifixion: Blasphemy at the Cross?
If you look at the Crucifixion of Jesus (Matthew 26-28), you will see that the religious leaders spat upon him, slapped him, and called him names. Not only did they give him vinegar to drink when he was thirsty but they gambled for his clothes while he hung there on the cross.
The Bible tells us that Jesus was beaten so badly that not only could they not recognize who he was — but he was beaten so badly that he no longer looked like a human. (Isaiah 53)
But what did Jesus say?
(Luke 23:34) Then said Jesus, Father, forgive them; for they know not what they do.
These men were crucifying our Lord and Savior but instead of damning them all to hell (which he surely could have done) — He prayed for them in their Ignorance.
Now if anything was going to damn anyone to Hell, surely It would have been the actions of these men
— not a 7-word declaration made by a 16 year old girl.
As stated earlier, Blasphemy can only be committed when a person has come to the full knowledge of who God is .
The Angels who Blasphemed (Sinned):
Satan blasphemed God when he purposely and knowingly rebelled against him and the Angels who followed Satan Blasphemed him as well. This is why the Bible tells us that there is no second chance for fallen angels (demons). As of now, the fallen angels are awaiting their judgement — Eternal damnation. (Jude 1:6)
Because they have nothing more to lose, the fallen angels now want humankind to follow in their rebellion (and blasphemy) against God.
(John 12:40 — 2 Corinthians 4:4)
Although I am confident that the majority of these people are not actually condemned considering the fact that you cannot blaspheme God through Ignorance, they are indeed tempting God (which we know is a sin). But thankfully, God is Merciful and slow to wrath.
Events such as this should serve as a reminder of how close we are to the time that the Bible foretold of — a time in which the spirit of anti-Christ would be released into the world to deceive all those who reject the truth.
(1 John 2:18 KJV) "Little children, it is the last time: and as ye have heard that antichrist shall come, even now are there many antichrists; whereby we know that it is the last time."

Deon is a Thought-Leader, Philosopher, Researcher, Entrepreneur, Internet marketer, and Social-Media extraordinaire.

After spending years studying the inner workings of the Cyber world, Deon has been given many titles as a direct result of his expertise on a wide array of platforms -- both online and off.

But whether the subject is Marketing, Advertising, Blogging, Branding, Web Metrics, Systems Design, Advanced Social-Media integration, Research, or Investigation -- Deon has definitely earned a prominent name for himself within the cyber community.

However, the only title he actually values is... "Christian"

Latest posts by Deon (see all)