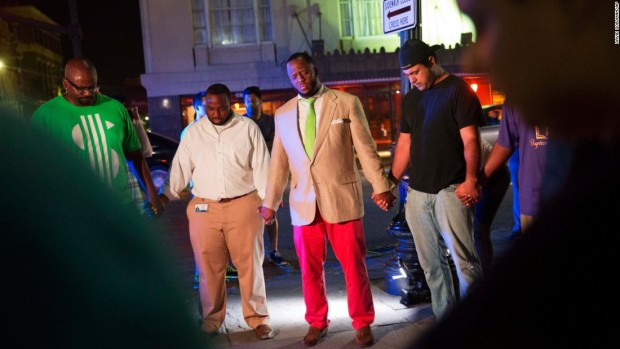 Charleston Shooting:
SOUTH CAROLINA — As previously reported, the Charleston community underwent a heart-breaking experience when a gun-man open-fired at a historic church — leaving 9 dead and an entire community emotionally wounded.
Before the estranged shooter (Dylann Roof, 21) open-fired, bystanders reportedly heard him say that he was there to "Kill Blacks" because they were causing trouble.
Today, Roof is currently in Custody and awaiting trail. However the entire Charleston community is in mourning for the lives that were taken that day.
A Heartfelt Christian Response:
When we encounter such senseless violence, we sometimes instinctively develop 'animosity' or 'hatred' towards the 'Sinner' rather than towards the 'Sin'.
However, it is important that we remember that although our offenses may not be as 'Radical' as Dylann's — by definition, we are all offenders nonetheless because we all have fallen victim to Sin at some point in our lives (no matter the 'flavor')
Yet after the news broke, hundreds of people immediately became Angry with the shooter and condemned not only his actions, but some even condemned the young man himself (which is what Christians are warned against)
(Rom 2:1) "Therefore thou art inexcusable, O man, whosoever thou art that judgest: for wherein thou judgest another, thou condemnest thyself; for thou that judgest doest the same things."
Anger, Rage, Vengeance ….
all of these emotions were plenteous in the hearts of many after the deadly shooting.
However there was one emotion that shone through the darkness and revealed the true Heart of Christ toward the Sinner….
Love. Compassion. and Mercy.
While the suspect was still out on the loose, Marcus Stanley (a professional Gospel Musician) heard the news and responded differently than the majority of the world.
Stanley didn't pass Judgment, nor did he condemn the man… Instead he Loved him, the way Christ loved us.
In a comment on the Shooter's personal Facebook page, Stanley wrote the following:
"I don't know you, but when I searched for your name from the news outlets it led me here. You're not captured yet, so there is a chance that you may see this message. I don't look at you with the eyes of hatred, or judge you by your appearance or race, but I look at you as a human being that made a horrible decision to take the lives of 9 living & breathing people."

"Children do not grow up with hatred in their hearts. In this world we are born color blind. Somewhere along the line, you were taught to hate people that are not like you, and that is truly tragic."

"You have accomplished nothing from this killing, but planting seeds of pain that will forever remain in the hearts of the families that lost their lives and countless hearts around our country."

"If you're still out there and you have your phone with you… Give your heart to Jesus and confess your sins with a heart of forgiveness. He is the only one that can save your soul and forgive you for the terrible act you have done."

"I love you Dylann… even in the midst of the darkness and pain you've caused, but more importantly HE loves you."
Now THIS… is truly the heart of God towards Sinners.
As we come together to pray for the Charleston community, lets also pray for the salvation of the young man who allowed himself to succumb to the temptation of hatred — Because no matter what the degree, we have all been there. However it is only the glorious Light of Christ that can pierce the Darkness.

Deon is a Thought-Leader, Philosopher, Researcher, Entrepreneur, Internet marketer, and Social-Media extraordinaire.

After spending years studying the inner workings of the Cyber world, Deon has been given many titles as a direct result of his expertise on a wide array of platforms -- both online and off.

But whether the subject is Marketing, Advertising, Blogging, Branding, Web Metrics, Systems Design, Advanced Social-Media integration, Research, or Investigation -- Deon has definitely earned a prominent name for himself within the cyber community.

However, the only title he actually values is... "Christian"

Latest posts by Deon (see all)