The Passover:
For many who are unaware, We are currently in the time of the Jewish passover where the Nation of Israel celebrates the breathtaking event that the Lord lead them out of Egypt by sending a series of judgements on the stubborn pharaoh.
The Lord allowed the destroyer to pass through Egypt and to smite the first born among all things, but the Lord "Passed Over" the houses of his people when he saw the blood of the sacrifice on the doorpost.
But even during this Holiday for the Jews, we have seen a dramatic increase in the persecution of Christians as well as Jews. In once Incident, an Israeli man was killed by a terrorist whilst traveling with his family along the West Bank for the Jewish Passover. The Father was killed, but his Wife (who was pregnant) and his 2 sons were Injured in the accident.
The Rise of Christian Persecution:
Although this is a sad event indeed, It is nothing to compare the the raging violence that is taking place in ME-countries(middle-eastern) against the body of believers.
Christians are being Attacked, Persecuted and Framed for their faith, and although this is bad – It is nothing to compare to the extreme levels of violence and corruption that is taking place in the ME against our brothers and sisters.
Groups of radical Muslim Extremists who are apart of the terror cell known as The Muslim Brotherhood are literally destroying churches by planting bombs set to detonate when the churches are filled. They then follow this by burning down the church.
Christians who refuse to convert to Islam are being Beheaded, Murdered, Beaten, Kidnapped, and Demonized.
In fact, Last year in Saudi Arabia, two men were prosecuted and convicted for converting a woman to Christianity and for helping her flee her oppressive country.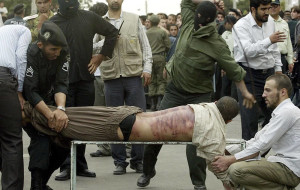 These 2 men were sentenced to 2years in Prison and 200 lashes.
Most Christians in America would be horrified by a punishment like this, but actually – these 2 men were lucky considering that the act of converting someone to Christianity is punishable by death in this particular country.
Now I must ask, how many Christians in America do you would be Offended at treatment such as this on behalf of Christ?
But In the Islamic republic of Iran, any opposition to the political or religious standard (Islam) is considered an "Act of Blasphemy". And in a similar incident, 3 Iranian Christians who were caught selling bibles were accused of the Crime of "Crimes against state security", and as a result were sentenced to 10years in Prison. Again, they were lucky…there are many people who were executed for crimes of a similar nature in which the Iranian officials accused them of "Waging war against God" and for "Spreading Corruption on Earth" (Christianity).
The Decline of the Church in America
With everything that is going on, with all the persecution that is taking place in ME-countries it is amazing to see how the Church in America has been Neutralized. And although it is in-part due to poor the poor coverage of Christian Persecution by the mainstream media in America, I can't help but feel that somehow – the church too, is also to blame. So many of us have allowed the World to Silence us by distracting us with the cares of this Life. Christians in America are so caught up in the Prosperity-Movement that we have literally become blinded by it.
We groan and complain the moment we don't have enough money to pay a Cellphone Bill, a Light-Bil, or a Car-Note – But Christians in the Middle-East would be happy to live with CANDLES so long as they can practice their faith without fear of having their houses set on fire while they are asleep. The Christians in the Middle-East would GLADLY walk 3miles a day to their Job, if they didn't have to fear being Stoned on the way to their workplace.
Is your Faith in God, or your Circumstance?
So many Christians live under the premise that as a Christian, we are entitled to a Worry-Free life. They are glad to serve the Lord, so long as he promises to keep their Bank-Accounts, and the Bellies Full. (Prosperous)
But what about when…
You have no Money
You have no Food
Your are Shamed for the Sake of Christ?
You are Hated by those whom once loved you?
When your very LIFE is at Steak for your Faith?
Under all these conditions, Would you Still Love God?
It is in these situations that we are able to see where our faith truly Lies.
So If you are reading this and you notice that some of these things apply to you (The Love of The World), then I urge you to let the Lord use this article to Speak his word into your heart. The Holy-spirit speaks to us the thing it is that God wishes for us to hear.
But when the troubles of Life come, I implore you by God to remember the words of the Apostle Paul to the Church in Rome…
(Romans 8:35 ERV) Can anything separate us from Christ's love? Can trouble or problems or persecution separate us from his love? If we have no food or clothes or face danger or even death, will that separate us from his love?

(Romans 8:36) As the Scriptures say, "For you we are in danger of death all the time. People think we are worth no more than sheep to be killed."

(Romans 8:37) But in all these troubles we have complete victory through God, who has shown his love for us.

(Romans 8:38)
Yes, I am sure that nothing can separate us from God's love–not death, life, angels, or ruling spirits.

I am sure that nothing now, nothing in the future, no powers, nothing above us or nothing below us–nothing in the whole created world–will ever be able to separate us from the love God has shown us in Christ Jesus our Lord.

Deon is a Thought-Leader, Philosopher, Researcher, Entrepreneur, Internet marketer, and Social-Media extraordinaire.

After spending years studying the inner workings of the Cyber world, Deon has been given many titles as a direct result of his expertise on a wide array of platforms -- both online and off.

But whether the subject is Marketing, Advertising, Blogging, Branding, Web Metrics, Systems Design, Advanced Social-Media integration, Research, or Investigation -- Deon has definitely earned a prominent name for himself within the cyber community.

However, the only title he actually values is... "Christian"

Latest posts by Deon (see all)