DeonVsEarth T-Shirts Available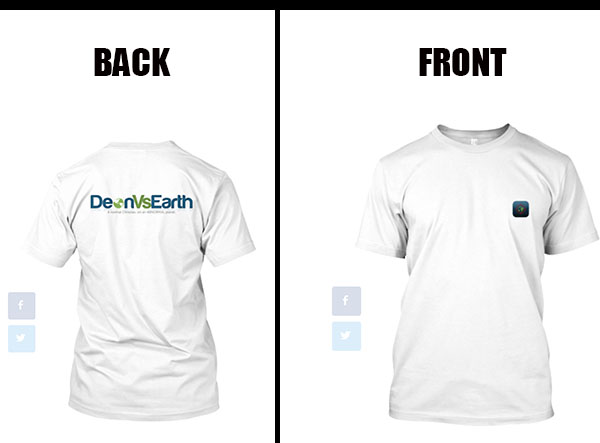 Hey everyone! We just wanted to publish this quick post to alert our Readers that we now have DeonVsEarth T-shirts available!
If you are interested in grabbing one, feel free to Order your T-shirt at anytime!
All orders will be printed off in groups of 5, meaning your card or payment method will NOT be charged until 5 others have placed their order. Once 5 orders have been placed, the payment will be processed and all shirts will be printed and delivered.
Initially the starting price for basic T-shirts would be around $30 but because we value our audience so much we have actually cut a deal with our publishers to allow us to sell these t-shirts to our readership for as low as $20!
Available Items
Unisex T-Shirts = $20
Hoodie/Jacket = $49
Women's fitted T-shirt = $20
Long Sleeve = $25
We have all major sizes available, between small – and 5XL, So Hurry and reserve your shirt before its too late!
---
If you have any questions, then just Contact Us!

Deon is a Thought-Leader, Philosopher, Researcher, Entrepreneur, Internet marketer, and Social-Media extraordinaire.

After spending years studying the inner workings of the Cyber world, Deon has been given many titles as a direct result of his expertise on a wide array of platforms -- both online and off.

But whether the subject is Marketing, Advertising, Blogging, Branding, Web Metrics, Systems Design, Advanced Social-Media integration, Research, or Investigation -- Deon has definitely earned a prominent name for himself within the cyber community.

However, the only title he actually values is... "Christian"

Latest posts by Deon (see all)