The Moral Decline:
For years we have witnessed a decline in American values where, in the name of "Tolerance" and religious Freedoms, many have been indoctrinated into no longer recognizing the clear distinction between right and wrong, good and evil.
Instead today's society is attempting to teach both us and our children that "Tolerance" is right, and anyone who will not tolerate (whether they consider it moral or immoral) is wrong.
However today we witness yet another example of how 'Religious Freedom' is being used to stifle the voice of Christians and the Gospel of Christ.
In response to Christians passing out Bibles and Pamphlets around local schools, the 'Freedom From Religion Foundation' (FFRF) started an evangelizing campaign aimed at countering the message of the Gospel by sharing anti-christian books and pamphlets to local students and children.
As reported by Christian News —
"According to reports, the Orange County School Board permitted FFRF to distribute several books and pamphlets, including a booklet entitled "What's Wrong With The Ten Commandments?" and a brochure entitled "What Is An Atheist?" However, the board prohibited FFRF from giving students several other publications, citing the materials' "disruptive" and inappropriate content."
Satanists: Preaching to your Kids?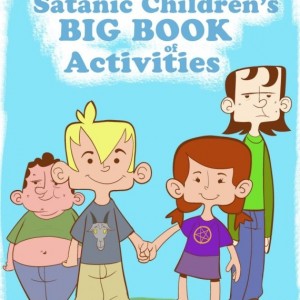 Not long after this incident, the New-York based Satanic temple announced that it would also begin it's 'Ministry' of passing out 'Educational' books and pamphlets to local schools.
The organization claims that it's primary objective for distributing the content is to give both children and students an equal opportunity to learn more about Satanism than what is often portrayed by Christians.
In addition, They also hoped to show children the 'good' that can be found within the occult.
In a press release, the spokesperson for the Satanic church stated the following:
"I am quite certain that all of the children in these Florida schools are already aware of the Christian religion and it's Bible, and this might be the first exposure these children have to the actual practice of Satanism, We think many students will be very curious to see what we offer."
On that note, one of the items that the Satanic Church sought to distribute is 'The Satanic Children's Big Book of Activities' which contained multiple coloring pages as well as Satanic philosophy and teachings.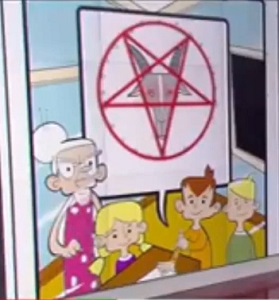 In addition, the coloring book also contains many occultic images and symbols such as the inverted pentagram as well as the 'goat-head' usually found therein.
It goes without saying that once the Satanic organization began passing around its 'Educational' material, they created a big stir within the community with concerned parents openly voicing their disapproval.
However the stir was so great that in order to stop the flow of the disturbing information being offered by the Satanic cult was for the school board to temporarily block all requests for sharing content until the policies could be revised.
"This really has, frankly, gotten out of hand," Orange County Chairman Bill Sublette told reporters. "I think we've seen a group or groups take advantage of the open forum we've had. … In my office alone I had received close to 11,000 emails in one period on this issue, and it gives you an idea of the level of disruption it was causing."
However on the following Tuesday, the Orange County school-board voted to ban all religious material from being distributed within the school district.
Christian groups say that they are disappointed with the move because although the Satanic teachings will not be distributed, neither will the Gospel of Christ.
However this very event brings fresh meaning to the following scriptures:
(Philippians 3:17-19 KJV) Brethren, be followers together of me, and mark them which walk so as ye have us for an ensample. (For many walk, of whom I have told you often, and now tell you even weeping, that they are the enemies of the cross of Christ: Whose end is destruction, whose God is their belly, and whose glory is in their shame, who mind earthly things.)

(Philippians 3:20 KJV) For our conversation is in heaven; from whence also we look for the Saviour, the Lord Jesus Christ:
---
Like Us on FB!
---

Deon is a Thought-Leader, Philosopher, Researcher, Entrepreneur, Internet marketer, and Social-Media extraordinaire.

After spending years studying the inner workings of the Cyber world, Deon has been given many titles as a direct result of his expertise on a wide array of platforms -- both online and off.

But whether the subject is Marketing, Advertising, Blogging, Branding, Web Metrics, Systems Design, Advanced Social-Media integration, Research, or Investigation -- Deon has definitely earned a prominent name for himself within the cyber community.

However, the only title he actually values is... "Christian"

Latest posts by Deon (see all)