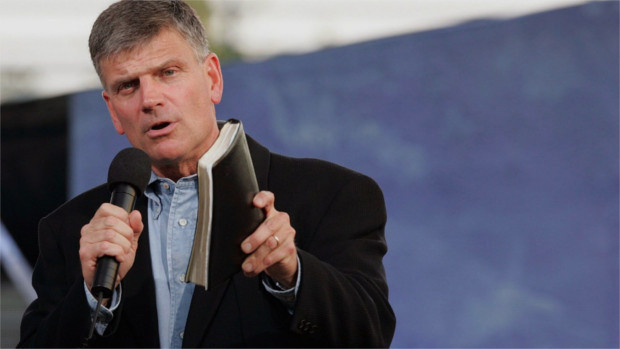 Graham Leaves GOP
According to reports, Franklin Graham, son of world renown Evangelist Billy Graham, has announced that he is leaving the Republican party and will now label himself as an "Independent".
The announcement came not long after learning that a new $1.1 Trillion spending Bill had been passed by both Democrats and Republicans that continued the funding of 'Planned Parenthood' despite the leaked videos showing Planned parenthood doctors essentially "bargaining" over the body parts of the aborted babies.
As reported by Breitbart:
"Evangelist Franklin Graham announced Tuesday he is leaving the Republican Party following the GOP's cave to Democrats last week in the $1.1 trillion omnibus spending bill.
Graham particularly likened the continued taxpayer funding of Planned Parenthood in the bill to the funding of Nazi concentration camps.
"Shame on the Republicans and the Democrats for passing such a wasteful spending bill last week," he posted on Facebook. "And to top it off, funding Planned Parenthood!""
Graham also expressed his extreme disappointment in the Republican party and called the passing of this Bill a "big loss" for America.
"After all of the appalling facts revealed this year about Planned Parenthood, our representatives in Washington had a chance to put a stop to this, but they didn't. There's no question—taxpayers should not be paying for abortions! Abortion is murder in God's eyes.

Seeing and hearing Planned Parenthood talk nonchalantly about selling baby parts from aborted fetuses with utter disregard for human life is reminiscent of Joseph Mengele and the Nazi concentration camps! That should've been all that was needed to turn off the faucet for their funding. Nothing was done to trim this 2,000 page, $1.1 trillion budget.

This is an example of why I have resigned from the Republican Party and declared myself Independent. I have no hope in the Republican Party, the Democratic Party, or Tea Party to do what is best for America. Unless more godly men and women get in this process and change this wicked system, our country is in for trouble."
---
Like Us on FB!
---

Deon is a Thought-Leader, Philosopher, Researcher, Entrepreneur, Internet marketer, and Social-Media extraordinaire.

After spending years studying the inner workings of the Cyber world, Deon has been given many titles as a direct result of his expertise on a wide array of platforms -- both online and off.

But whether the subject is Marketing, Advertising, Blogging, Branding, Web Metrics, Systems Design, Advanced Social-Media integration, Research, or Investigation -- Deon has definitely earned a prominent name for himself within the cyber community.

However, the only title he actually values is... "Christian"

Latest posts by Deon (see all)