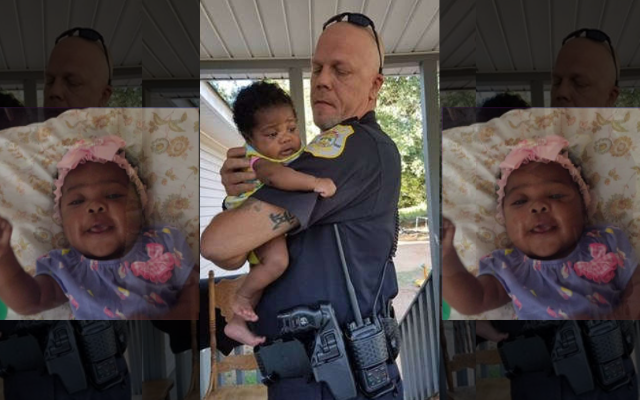 Officer Saves Choking Baby, Family Asks Him to Join the Family
GEORGIA — A Georgia Family asked Kenneth Knox (Officer) if he would do them the honor of becoming the "godfather" of their beautiful baby girl after he saved her life.
According to reports, on Saturday (9/24), Patrol Officer Kenneth Knox received a radio transmission about a "Choking Baby". Although The paramedics were on their way — because Knox was very close to the general area, he quickly responded anyway.
Upon arriving at the Location, Knox told Reporters that although there were roughly 20-30 people in the yard – he could easily tell who the Father was because he was running around the yard screaming "please, somebody save my baby".
Officer Knox quickly told the father to take him to the child (who was inside the house).
While Fighting his tears, Knox told reporters that when he ran into the house he saw a lady holding the 2-month old baby. However Knox describes the child as being "very limp" and beginning to "turn blue". In addition, Officer Knox states that when he looked into the baby's eyes, he saw that they were beginning to "glaze over" – meaning she was possibly near death.
So Officer Knox reportedly laid the baby on the couch and tried to use his finger to remove the object (flake of cereal) from the young girl's throat, however the object was beyond his reach.
So Knox asked the father did he try anything else to help the baby. The father responded that he also tried to perform CPR, however it wasn't working.
So Officer Knox again tried to perform CPR on the child, however as he blew into the child's mouth, Knox stated that he could tell that something was blocking the air (it wasn't working).
Knox stated that at this point, he didn't know what to do.
However in a split moment, Knox (who is a Christian) had an idea that he believes came from God.
The Idea that Knox had was to perform "Reverse CPR"
"I went down to blow a little bit in her mouth, and I could tell that something was blocking it. I didn't know what to do, and I had never heard of 'Reverse CPR' – it's not a medical term it's just something I use to describe it.

It had to be God who told me to just Suck. And uh.. *holds back tears* … I started sucking and it took me about 4 or 5 times maybe – but finally It Came Out, and it came out so hard that it went into my throat and I ended up swallowing it.

As soon as that happened, I gave her one more little breath and she starting breathing. And for a brief second, she smiled at me. I don't know If I am intelligent enough to put into words what that did to me."

"Then she started screaming and crying. I looked at her Mom and told her that it was Music to my ears because it lets you know that she is breathing and that she is mad that we are messing with her"
---
Like Us on FB!
---

Deon is a Thought-Leader, Philosopher, Researcher, Entrepreneur, Internet marketer, and Social-Media extraordinaire.

After spending years studying the inner workings of the Cyber world, Deon has been given many titles as a direct result of his expertise on a wide array of platforms -- both online and off.

But whether the subject is Marketing, Advertising, Blogging, Branding, Web Metrics, Systems Design, Advanced Social-Media integration, Research, or Investigation -- Deon has definitely earned a prominent name for himself within the cyber community.

However, the only title he actually values is... "Christian"

Latest posts by Deon (see all)