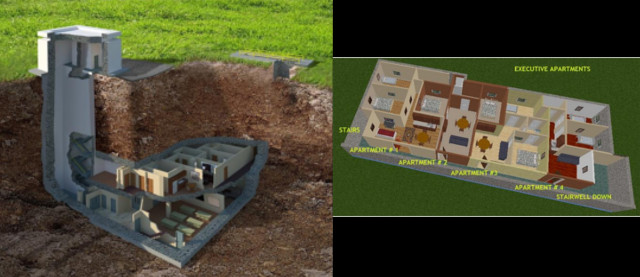 Underground Bunker in GA
TIFT COUNTY, GEORGIA — A Georgia home has been discovered that is garnishing massive attention for more than just it's location and number of bathrooms.
According to reports, a Home has been discovered in Tift county that could potentially withstand a 20-kiloton Nuclear blast.
The Property was originally built in 1969, however it has since been remodeled to comply with government standards. The property is now going on sale for $17.5 Million dollars.
According to the listing, the property contains about 20 acres of land and the bunker contains 3ft thick walls, decontamination showers, and an updated air-intake system.
The Bunker is shaped in a manner that resembles 4 apartments, however if viewed as one living area, it has 12 bedrooms, 12 bathrooms, a fitness area, a media room, a recreation center, and a workshop. In addition, the Bunker is capable of utilizing Solar energy to power some (if not all) of it's electrical operations.

Deon is a Thought-Leader, Philosopher, Researcher, Entrepreneur, Internet marketer, and Social-Media extraordinaire.

After spending years studying the inner workings of the Cyber world, Deon has been given many titles as a direct result of his expertise on a wide array of platforms -- both online and off.

But whether the subject is Marketing, Advertising, Blogging, Branding, Web Metrics, Systems Design, Advanced Social-Media integration, Research, or Investigation -- Deon has definitely earned a prominent name for himself within the cyber community.

However, the only title he actually values is... "Christian"

Latest posts by Deon (see all)