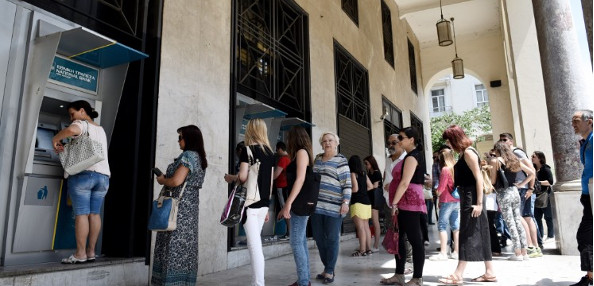 Greek Crisis: The Banks are Down
ATHENS, Greece — in response to the Financial Crisis currently plaguing Greece — The Bank of Greece has informed Alexis Tsipras (Greek Prime Minister) that it would be best if all banks remained closed and that restrictions be placed on the amount of cash citizens can withdraw from the Banks per day.
The limit placed on 'withdrawals' operates on a per-card basis and currently limits all withdrawals to $67 (this is known as 'Capital control').
This was done to prevent the system from collapsing due to a 'Run' on the banks — which essentially occurs when too many people try to withdraw their money from the Bank all at once for fear that the Banks are becoming unstable. (Learn More)
However, The Greek Prime Minister did not indicate how long the Banks would be closed nor how long the restrictions on [ATM] Transactions would continue.
According to reports, thousands of anxious Greeks rushed to the ATMs when they learned that the Greek Prime Minister (Alexis Tsipras)called for a referendum on the creditor's reform proposals.
Here is a quick look into what Greece's 'Capital Control' entails
Banks will remain close from Monday until the following Monday — July 6, which is the day after the referendum (at least)
All Cash withdrawals from the ATMs will have a daily limit of 60 euros ($67) per card.
Credit/Debit card transactions [Within the Country] will not be limited. However since the economic incident, many businesses have not been accepting card payments, but were were demanding cash.
Internet and Phone banking within the Country will have no restrictions within the Country, however absolutely no money can be transferred outside of the Country.
For emergency needs, such as importing medicines or sending remittances abroad, the Greek Treasury will create a Banking Transactions Approval Committee to examine requests on a case-by-case basis.
Foreign bank cards, whether debit or credit, will not be affected and tourists will be able to withdraw the full amounts their own banks allow them to.
However in the meantime, Greece is attempting to find a way out of this Economic mess — but it doesn't look good.
Could this be a pre-cursor to a global economic collapse that will eventually reach American shores?

Deon is a Thought-Leader, Philosopher, Researcher, Entrepreneur, Internet marketer, and Social-Media extraordinaire.

After spending years studying the inner workings of the Cyber world, Deon has been given many titles as a direct result of his expertise on a wide array of platforms -- both online and off.

But whether the subject is Marketing, Advertising, Blogging, Branding, Web Metrics, Systems Design, Advanced Social-Media integration, Research, or Investigation -- Deon has definitely earned a prominent name for himself within the cyber community.

However, the only title he actually values is... "Christian"

Latest posts by Deon (see all)