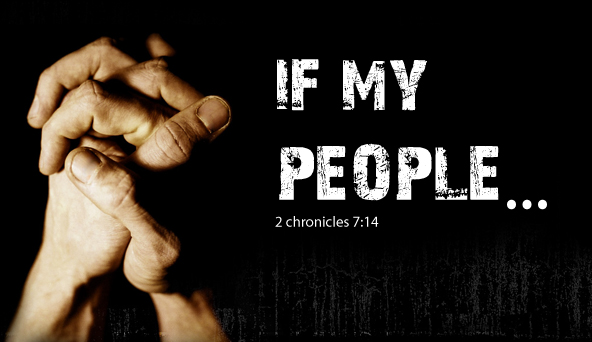 As many of you know, DeonVsEarth was a God-Inspired idea that presented itself to me one day while reading. It started off as nothing more than a sheet of paper with the words "Deon Vs Earth" scribbled on it (along with other silly doodles).
My original plan for this blog was to share things pertaining to my personal life, but as I began to read, learn, and grow both as a blogger and a Christian — I discovered that this blog should be used to help minister to God's people about the times that we are living in and the nearness of his return.
Should I Pay It now Or Later?
I recently received an email from my hosting company informing me that It was time for me to renew my website's hosting-plan. Failure to do this could result in the suspension of all websites owned by me — including the one that you are presently reading. (What is Web Hosting?)
With that being said, I recently had my eye on a really cool gadget that costs around $250. Although I've wanted to buy this item for quite some time — unfortunately I have never been able to get it. This is partly because whenever I accumulated the funds to actually buy it, something of greater importance comes up thus forcing me push it aside.
But Recently, I accumulated enough money to buy the this very gadget that I have always wanted — And to top it off, I was going to get it at a Fraction of the Cost! So here I was about to buy something that I wanted for almost a year or two now — can imagine my excitement?
UPDATE: One of my readers brought it to my attention that I did not share exactly what the gadget was that I wanted — so I decided to share it in this blog post.
This gadget that I wanted was an 160gb ipod Classic 7th generation.

So forgetting completely about the hosting invoice that must be paid to ensure that this website remains active — I quickly hopped on the web and prepared to make this purchase.
But just as I put the Item in the shopping cart to checkout —
I remembered the Invoice, and that failure to pay it could result in this website being shutdown.
A Christian's Tough Decision
Immediately I was faced with a decision, my only 2 options were…
Buy the Item that I've Always wanted — pay the invoice later
Pay the invoice Now — buy the Item later
As I sat there with the mouse hovering over the Buy Now button — I considered my choices.
Although I could definitely buy the Item now, and pay the invoice later — I would then be gambling with the website that I had dedicated to God.
But then again, I could always just pay the invoice later and get the site re-activated — But would that mean that I am placing my own desires above the ministry that God has blessed me with?
The Final Decision
As I sat thinking on the subject (and partially making excuses),
something happened…
I remembered God, and how I told him that It was my desire to use this blog for his purpose, his honor, and his glory. But how could I do that if I allowed it to be shutdown simply because I wanted to get some gadget that I honestly don't really need at the moment.
It was then that I decided that this website and its ministry is by far
— more important than any personal desire that I may have.
Abandoning the Shopping Cart
After closing my shopping cart, I then went over to my hosting company's website and paid the Invoice — thus ensuring that this website will be up and running for another 6 months.
But immediately after I paid the Invoice
— I felt the overwhelming urge to get out of my seat, and pray.
So as I dropped to my knees and began to pray
— I felt another overwhelming urge to get back up, get my bible, and kneel before it as I prayed.
So I got up, got the bible, randomly opened it, and began to pray and talk to God.
The Conversation
Initially the prayer was as any normal prayer would be, but as time progressed my prayers became more passionate and therefore began to intensify.This continued until I was no longer speaking in any language that I understood.
Although I did not know what I was saying — I knew that something important was definitely being said. It was then that I realized that It was no longer I who was praying and talking to God — but rather it was my spirit.
The longer I prayed — the stronger the prayer became.
I must have prayed for what seemed to be 5 mins — but it turns out that it was more like 45mins.
As the prayer began to wind down,
I began to hear myself speaking in my native tongue once again (English).
Here are the words that I heard myself saying continually…
"Hear my heart, and receive my prayer oh God
— Be pleased with your servant"
For some reason, I couldn't help but repeat this phrase while blessing his name.
The Astonishing Revelation
So after I finished the prayer, I went to the bathroom to clean myself up. I then entered the kitchen for a glass of water.
After drinking the glass of water, I returned to my room several minutes later while talking to God in my heart.
Once I re-entered my room, I saw that the bible remained on the floor where I had first placed it. But as I began to pick it up, close it, and place it back on its shelf God then spoke to my spirit and said…
"Read It."
So I picked the Bible up off the floor, and saw that it was opened to 1 Kings 9:1-9. (I later Highlighted after reading)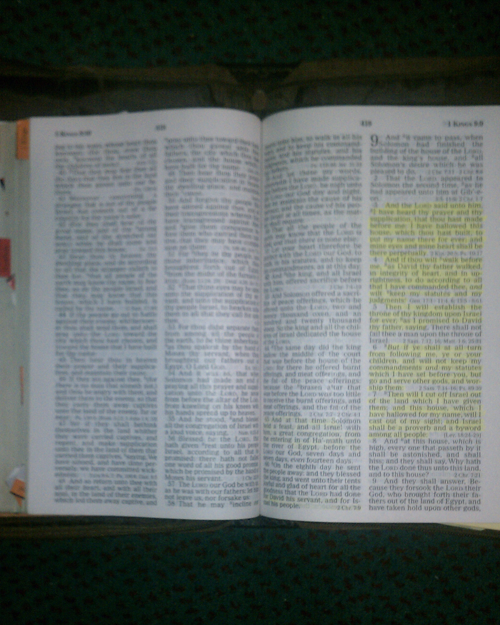 I was utterly blown away as I began to read the passage that I had somehow randomly opened the bible up to. Although I will not share everything that God showed me, I would like to share parts of this particular passage.
Here is the first few passages written in 1 Kings chapter 9…
(1 Kings 9:3) And the LORD said unto him, I have heard thy prayer and thy supplication, that thou hast made before me: I have hallowed this house, which thou hast built, to put my name there for ever; and mine eyes and mine heart shall be there perpetually.
(1 Kings 9:4) And if thou wilt walk before me, as David thy father walked, in integrity of heart, and in uprightness, to do according to all that I have commanded thee, and wilt keep my statutes and my judgments:
(1 Kings 9:5) Then I will establish the throne of thy kingdom upon Israel for ever, as I promised to David thy father, saying, There shall not fail thee a man upon the throne of Israel.
….My mind was literally blown.
God had literally answered my prayer the moment he told me to place the bible in front of me at the very beginning.
Now of course the last passage is not literally saying that God will make me the king of Israel, but it has a much deeper meaning.
Understanding the Message
Although the verse in 1 Kings 9 is actually a conversation that God had with king Solomon when he began to rule Israel after the death of his father (king David), The passages of the Bible also have profound spiritual meanings as well.
Although I have never even built a Coffee table for God (let alone a Temple), — I have indeed built this blog in his name.
Again, the scripture reads…
"I have hallowed this house, which thou hast built, to put my name there for ever; and mine eyes and mine heart shall be there perpetually."
But not only was the passage applicable to me and this blog — but it is also applicable to all those who minister on behalf of God.
Whether your ministry is leading a 10,000 member church or whether it is preparing a glass of water for God's people — It is all the same in God's eyes. God is not a respecter of persons, he does not see 1 ministry as being greater than another. (Acts 10:34/Romans 2:11)
Jesus tells us that anyone who receives a prophet in the name of a prophet shall receive a prophet's reward — whether that person is a prophet or not.
(Matthew 10:41)
The God that is never Late
God's sovereignty constantly amazes me. He knows exactly what needs to happen for us to become the people that he has called us to be — he then arranges for those things to occur that will guide us in the right direction.
Isn't it awesome to have a God on your side that…
Knows all things (omniscient)
Has all Power (omnipotent)
Is everywhere at all times (omnipresent)
Loves you like his own child
Is faithful to forgive
Righteous and True
God is truly Alpha and Omega — The Beginning and the End –The First and the Last. Therefore let us count it as a privilege and an honor just to be called his Children.
Therefore if we can remember nothing else, lets us remember the following…
"God is an great God, but he is an amazing Father."
---
To the reader:
Have you ever had an encounter with God that left you mind-blown? How did it Change your Life?

Deon is a Thought-Leader, Philosopher, Researcher, Entrepreneur, Internet marketer, and Social-Media extraordinaire.

After spending years studying the inner workings of the Cyber world, Deon has been given many titles as a direct result of his expertise on a wide array of platforms -- both online and off.

But whether the subject is Marketing, Advertising, Blogging, Branding, Web Metrics, Systems Design, Advanced Social-Media integration, Research, or Investigation -- Deon has definitely earned a prominent name for himself within the cyber community.

However, the only title he actually values is... "Christian"

Latest posts by Deon (see all)