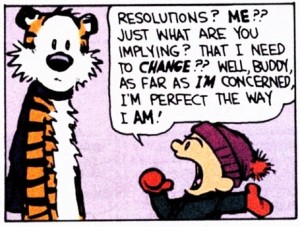 Hey y'all. It's Ann Thomas with a challenging thought for the New Year.
Do you need an attitude adjustment, behavior change, on an improved vocabulary? Or perhaps you lack grace, sympathy, or compassion for others.
Each time I look at the image at the beginning of this post, I crack up as it reminds me of a few people I know (cough cough). I think of people who are never wrong and have no flaws (in their own mind). Something is always wrong with the 'other' person because they are PERFECTLY fine.
I know you don't know anyone like that, but I assure you they are closer than you think.
Although I can honestly say that I have come a long way, I am still under construction. Many people who hear me speak probably think I have everything all together, but the truth is — I mess up (a lot).
But I say this to make a point — Progress is a PROCESS!
A person who thinks they are ALREADY perfect is a person who is closed minded, prideful, and doomed to failure. They're also critical of others because they are not willing to self-examine. How sad!
So you might say, "Ann, how do I know if a change is needed?" I'm glad you asked.
Consider the following questions:
Do you seek out friends who agree with everything you say and tell you what you want to hear?
Do you get offended or hurt when people disagree with you?
Do you perceive feedback or constructive criticism as a personal attack?
When someone shares their accomplishments with you, do you turn it into a competition?
If you answered yes to any (or all) of the above questions – it's time for a change my friend. And here's the great news! There's no better time to make the change as we embark upon a new year.
Pray and ask God to reveal whether a person's negative words or a painful event may have caused you to feel insecure or unworthy. People and events are a powerful source for communicating messages to us (both encouraging and discouraging).
If a person or situation caused you to feel like a failure or inferior, God wants to speak TRUTH into your life RIGHT NOW.
This truth will liberate you to choose friendships that will lovingly help you identify your weak areas while celebrating and encouraging your strengths. They will help you become the man/woman God created you to be.
"As iron sharpens iron, so one person sharpens another." Proverbs 27:17
When you were born, God began a good work in you and He promises to complete it (Philippians 1:6). But remember, it's a process.
I pray this message challenges you to seek God for revelation that will lead to healing and ultimately a change in your thinking, attitude, and behavior.
Until next time, I wish you and yours a Happy and Blessed New Year!
For more inspiration, visit my website: www.annthomasministry.com.

Author/Speaker Ann Thomas is the founder of Ann Thomas Ministry - a ministry dedicated to encourage, equip, and empower men and women to acknowledge and embrace their God-given purpose and destiny.
Born in the West Indies, raised in
NY
, and now residing in the Tampa Bay area, Ann is the proud mom of two sons, ages 22 and 17, an author, full time professional, a former radio host, inspirational and motivational speaker, serves in her local church, and ministers in the prisons on a weekly basis.
Ann's book, "The Consecrated Cocoon – Emerging from Intimate Isolation with Power and Purpose" is a birthing place for revelation, deliverance, healing, truth, and freedom for readers who have been rejected, dismissed or hurt by others; or who are angry, disappointed, or confused by what God has allowed to enter into their life by way of a trial. Drawing on the similarities of a caterpillar metamorphosis process, Ann introduces readers to a spiritual cocoon that is a necessary time of isolation where God protects, prunes, refines, restores, prepares, and ultimately propels his mighty warriors into purpose and destiny. As readers discover a deeper intimacy with God, they also receive His unconditional love, realize their worth, and re-discover their purpose in HIM.
A blessed daughter of the Most High King and through the power of the Holy Spirit, Ann ministers at various events to fulfill the mandate of Luke 4:18. Her desire is to boldly proclaim the gospel so people will be saved, liberated, healed, and delivered.
Ann also facilitates 'topic-driven' workshops (small or large groups) that are customized based on the desired participant outcome. Topics vary to include (but are not limited to) rejection, abandonment, divorce, unforgiveness, adultery, abuse, abortion, rape, and self-esteem.

Latest posts by Ann Thomas (see all)