Iran: 'We will Assassinate Netanyahu's kids'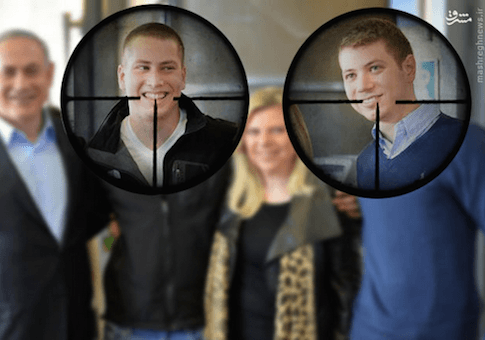 As reported by the Washington Free Beacon — IRAN is encouraging its its terror cells to pursue the assassination of the children of current Israeli Prime minister Benjamin Netanyahu.
Iran reportedly published personal information about Netanyahu's children including photgraphs of the children within Crosshairs and stating "We must await the hunt of Hezbollah"
What caused this?
Some believe this is a response to an Israeli airstrike that took place last week that resulted in the deaths of several Hezbollah militants along with the death of an Iranian general affiliated with IRGC (Iranian Revolutionary Guard Corps).
The airstrike conducted by Israel that killed the Iranian official was in response to rocket-fire by Islamic militants.
Israel simply returned fire to the place where the attacks originated — Yet Iranian leaders were outraged at Israel's response and threatened harsh retaliation. They also threatened to "Amp Up" their support for terror-based organizations such as Hezbollah (a terror cell) as well as other terror factions located throughout the middle east.
Growing Conflict in the Middle East
As time marches on, we can see that tensions are rapidly increasing between Israel and its neighbors. You can imagine how bad things must be if the Iranian government has openly put-out a "Hit" on Netanyahu's children.
Yet despite the fact that Israel's neighboring nations have already made clear that they will not stop until they have wiped her off the face of the earth, The Obama Administration continues to try to coax Israel into a Peace-treaty.
Fortunately for Israel, Prime minister Netanyahu made it clear that he will not accept any deal that could jeopardize the safety of the Nation of Israel — no matter how upset the Obama Administration becomes. Even unto this very day has he lived up to that promise.
However, Elections in Israel are just around the corner.
If you recall, Last Week we told you guys about how President Obama's "re-election squad" has now flown into Israel in an attempt to ensure that Prime Minister Netanyahu is not re-elected in the upcoming election.
As long as Netanyahu is in office, he will not sacrifice the safety of Israel for hopes of Peace — But if he is not re-elected, could he be replaced with someone who will?
An even better Question — Could this lead to the 7-year peace treaty that the bible foretells in Daniel 9:27 ?
(Daniel 9:27 KJV) "And he shall confirm the covenant with many for one week: and in the midst of the week he shall cause the sacrifice and the oblation to cease, and for the overspreading of abominations he shall make it desolate, even until the consummation, and that determined shall be poured upon the desolate."

Deon is a Thought-Leader, Philosopher, Researcher, Entrepreneur, Internet marketer, and Social-Media extraordinaire.

After spending years studying the inner workings of the Cyber world, Deon has been given many titles as a direct result of his expertise on a wide array of platforms -- both online and off.

But whether the subject is Marketing, Advertising, Blogging, Branding, Web Metrics, Systems Design, Advanced Social-Media integration, Research, or Investigation -- Deon has definitely earned a prominent name for himself within the cyber community.

However, the only title he actually values is... "Christian"

Latest posts by Deon (see all)