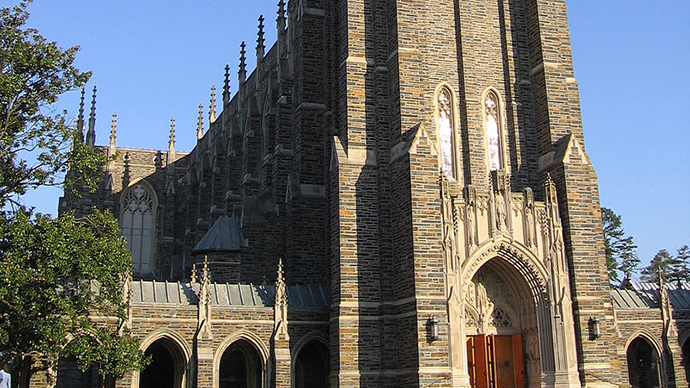 DUKE University: Embracing Islam
As reported by RT — DUKE University is planning to start broadcasting a call-to-prayer for its Muslim students each week from its bell tower in Durham, North Carolina.
The University announced on Tuesday that starting Friday, Members of DUKE University's 'Muslim Students Association' will chant the "Adhan" for 3 minutes.
"The adhan is the call to prayer that brings Muslims back to their purpose in life, which is to worship God and serves as a reminder to serve our brothers and sisters in humanity," Imam Adeel Zeb, a Muslim chaplain at Duke, said in a press release.
"This opportunity represents a larger commitment to religious pluralism that is at the heart of Duke's mission,"
Christy Lohr Sapp, the associate dean for religious life at the school's chapel, added in a statement.
"It connects the university to national trends in religious accommodation."
---
Similar Article: Pastor Loses Half Of Face | Warns world of Islamic Threat
---
Duke Faces Backlash:
Of course this did not sit well with many people including the University's Christian demographic. Furthermore several prominent figures (such as Franklin Graham) weighed in on Duke's decision to host a Muslim call to prayer.
In a Post to Facebook, Franklin Graham stated the following…
"As Christianity is being excluded from the public square and followers of Islam are raping, butchering, and beheading Christians, Jews and anyone who doesn't submit to their Sharia Islamic law, Duke is promoting this in the name of religious pluralism," Graham wrote. "I call on the donors and alumni to withhold their support from Duke until this policy is reversed."
As of Date, Graham's Facebook Post has generated over 70,000 LIKES and 55,00 Shares from both supporters of the Muslim Call-to-Prayer as well as many who oppose.
America: Religiously Stupid?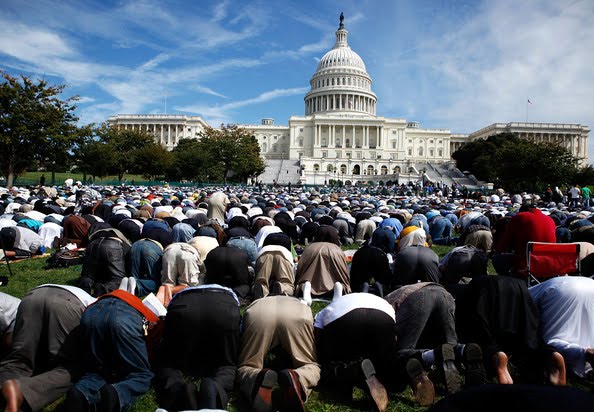 With everything going on in the world involving Islamic Terror and Radical Islam — I find it rather shocking that more Americans are not beginning to 'wake up' in regards to what is happening around us.
All over the world — we hear about someone strapping a bomb to their chest and blowing themselves up for Islam. Not only that, but we often hear news about 40year old men beheading a 12 year old girl because she is Christian.
Yet it seems that with each Islamic-based terror attack that occurs, Instead of coming to the conclusion that we must oppose this radical ideology that promotes such violence and hatred — It seems that we (America) try even HARDER to embrace it.
We sit and hear groups of Muslims talk about how "Peaceful" the religion is, yet when someone does something like this on behalf of Islam — we simply blame them for twisting the religions teachings (although it clearly states that unbelievers should be killed)
How Backwards can we be?

Deon is a Thought-Leader, Philosopher, Researcher, Entrepreneur, Internet marketer, and Social-Media extraordinaire.

After spending years studying the inner workings of the Cyber world, Deon has been given many titles as a direct result of his expertise on a wide array of platforms -- both online and off.

But whether the subject is Marketing, Advertising, Blogging, Branding, Web Metrics, Systems Design, Advanced Social-Media integration, Research, or Investigation -- Deon has definitely earned a prominent name for himself within the cyber community.

However, the only title he actually values is... "Christian"

Latest posts by Deon (see all)