Netanyahu, heading to America: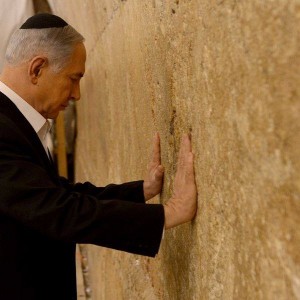 Israeli Prime Minister (Benjamin Netanyahu) reportedly visited the Western Wall in Jerusalem on Saturday night before heading to the US in order to address a joint-session of congress on the Nuclear deal taking place between TOA (The Obama Administration) and Iran.
Thanks to the invitation from Joe Boehner (R-Ohio), Netanyahu is set to deliver the Historic speech on Tuesday, March 3, 2015.
"On the eve my trip to the US, I came here to the Western Wall," said the Israeli PM after praying at the wall.
---
Related Article: U.S. Pastors show overwhelming support for Netanyahu's upcoming address | DeonVsEarth
---
He continued…
"I would like to take this opportunity to say that I respect US President Barack Obama. I believe in the strength of the relationship between Israel and the US and in their strength to overcome differences of opinion, those that have been and those that will yet be."
Adding…
"As Prime Minister of Israel, it is my obligation to see to the security of Israel; therefore, we strongly oppose the agreement being formulated with Iran and the major powers, which could endanger our very existence."

"In the face of this danger we must unite and also explain the dangers stemming from this agreement, to Israel, to the region and to the world,"
When asked why he was going to congress, Netanyahu responded…
"Because Israel has been offered the chance to make its case on this crucial issue before the world's most important parliament; because a speech before Congress allows Israel to present its position to the elected representatives of the American people and to a worldwide audience; because Congress has played a critical role in applying pressure to the Iranian regime — the very pressure that brought the ayatollahs to the negotiating table in the first place, and because Congress may well have a say on any final deal."
---
Like Us on FB!
---

Deon is a Thought-Leader, Philosopher, Researcher, Entrepreneur, Internet marketer, and Social-Media extraordinaire.

After spending years studying the inner workings of the Cyber world, Deon has been given many titles as a direct result of his expertise on a wide array of platforms -- both online and off.

But whether the subject is Marketing, Advertising, Blogging, Branding, Web Metrics, Systems Design, Advanced Social-Media integration, Research, or Investigation -- Deon has definitely earned a prominent name for himself within the cyber community.

However, the only title he actually values is... "Christian"

Latest posts by Deon (see all)