Who is John Todd?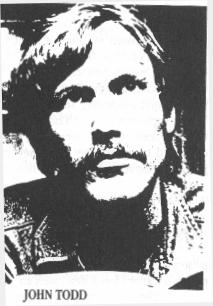 John Todd (formerly John Collins) was a former witch who was converted out of the depths of Satanism and converted to the kingdom of light through the power of Christ.
When asked about his conversion to Christianity, Todd responded…
"At first I would explain it (his conversion to Christianity) as an accident, but I have come to understand that there is no such thing as an accident when it comes to Jesus.
He had everything perfectly planned out"
Starting at the age of 5, John Todd was introduced into witchcraft where he grew up being taught that Witches were good and Christians are evil. But Todd's influence expanded far beyond the average "Candle lighting" and "Spell Casting" of other witches .
John Todd was placed as the "Head" witch who would oversee occult, drug, and even political activities within 13 states in the USA.
"I would not lie about this information, I have nothing to gain.
When I got saved, I told the LORD that everything I knew the Devil was doing
— I was going to let the world know."
John Todd (1949-2007)
John Todd: The Masonic initiation

Deon is a Thought-Leader, Philosopher, Researcher, Entrepreneur, Internet marketer, and Social-Media extraordinaire.

After spending years studying the inner workings of the Cyber world, Deon has been given many titles as a direct result of his expertise on a wide array of platforms -- both online and off.

But whether the subject is Marketing, Advertising, Blogging, Branding, Web Metrics, Systems Design, Advanced Social-Media integration, Research, or Investigation -- Deon has definitely earned a prominent name for himself within the cyber community.

However, the only title he actually values is... "Christian"

Latest posts by Deon (see all)