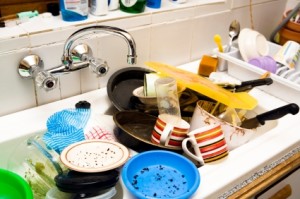 When I was younger, I remember misbehaving one day and as punishment for my behavior, my parents informed me to "see to it" that the dishes were washed.
Well, I considered this an indirect command, simply because they did not specify How I should go about completing the task.
and although I knew that they meant for me to wash the dishes, because they did not directly say for me to wash them… I thought I had some leverage to "Cheat the System".
So once they left the room, I paid one of my siblings $5 (If I remember correctly) to do the task for me.
I really thought that I had beat the system!
But when my parents returned, they found my sibling washing the dishes that they thought they had delegated to me.
So once they saw that I had not fully obeyed their request, they stopped my sibling from washing the dishes and demanded that I go and finish washing the dishes.
But the Kicker to the story is…
After I had finished washing the dishes, they told me that I could not get a Refund on my purchase!
Although at the time I was very angry, now that I look back…
I see that I learned a very important Life-Lesson that day.
"Always do it Right the first time, or you will PAY for it later!"
often times we try to take the "Easy Street" to completing our goals, but many times we end up having to start over simply because we wanted the Easy Way.
But the strange thing is that It takes us TWICE as long to do something the second time than it originally would have taken us to do the first time!
So the Quickest and the Easiest way to do Anything… is by doing it Right the First time 🙂
Have you ever experienced something similar to this?
** Leave Your Comments Below **

Deon is a Thought-Leader, Philosopher, Researcher, Entrepreneur, Internet marketer, and Social-Media extraordinaire.

After spending years studying the inner workings of the Cyber world, Deon has been given many titles as a direct result of his expertise on a wide array of platforms -- both online and off.

But whether the subject is Marketing, Advertising, Blogging, Branding, Web Metrics, Systems Design, Advanced Social-Media integration, Research, or Investigation -- Deon has definitely earned a prominent name for himself within the cyber community.

However, the only title he actually values is... "Christian"

Latest posts by Deon (see all)