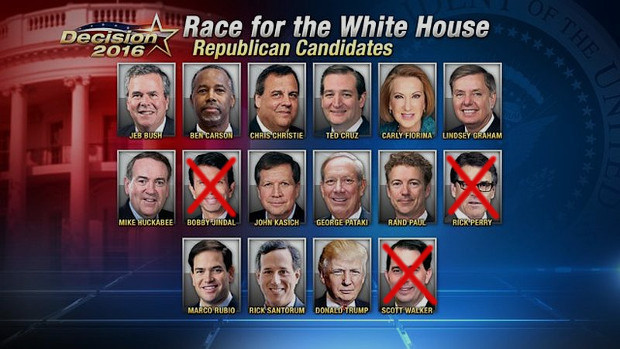 GOP drop-out: Who's Next?
For the observant amongst you, you probably already know which candidate it is. We actually left a hint in the graphic that we used for this post. But the latest to drop-out of the GOP Presidential Race is none other than… *drum roll* …South Carolina Senator Lindsey Graham.
Graham announced today via a conference call to his supporters that he would be dropping out of the Presidential Race.
As reported by Politico:
"South Carolina Sen. Lindsey Graham on Monday bowed out of the presidential race after failing to attract any significant support, despite his memorable zingers and passionate commitment to pushing a hawkish foreign policy agenda."
The article continued:
"His announcement came on the same day as the deadline hit for him to remove his name from the South Carolina primary ballot, a date that had been closely watched amid speculation that Graham would want to avoid a potentially poor performance in his own state's contest."
"I was hoping not to have to make this call, but I think the time has come for me to suspend my campaign," he said as he opened a call with supporters on Monday morning.
As the Presidential field continues to clear, who do you believe will be left standing?

Deon is a Thought-Leader, Philosopher, Researcher, Entrepreneur, Internet marketer, and Social-Media extraordinaire.

After spending years studying the inner workings of the Cyber world, Deon has been given many titles as a direct result of his expertise on a wide array of platforms -- both online and off.

But whether the subject is Marketing, Advertising, Blogging, Branding, Web Metrics, Systems Design, Advanced Social-Media integration, Research, or Investigation -- Deon has definitely earned a prominent name for himself within the cyber community.

However, the only title he actually values is... "Christian"

Latest posts by Deon (see all)