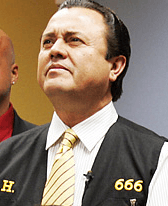 In the video Jose Luis de Jesus (now deceased) is the founder and Leader of a religious cult known as Creciendo en Gracia.
Jose claimed to be the Anti-Christ that the bible foretold of — he also claimed that most people misunderstand the concept of antichrist and misinterpret it as being something evil although it is really something good.
(Direct contradiction of the Bible)
Jose Luis de Jesus also claimed to be God but ironically died in 2013 — somehow although he and his followers believed him to be God, he was unable to save himself from death (Go figure).
It seems that with each passing day we move one step closer to Eternity and one step closer to the end of this age. Today we can see the words and prophesies of Jesus unfolding right before our eyes regarding the end-times and the spirit of "Anti-Christ" that now exists in the world
Jose's disgusting perversion of the Bible is one of many examples that depict exactly what Jesus and his disciples foretold of in the latter days. Jesus specifically warned his disciples that many false prophets would come in his name and would thereby deceive many.
(Matthew 24:4-5)
And Jesus answered and said unto them, Take heed that no man deceive you. (5) For many shall come in my name, saying, I am Christ; and shall deceive many.
Though many of us may think that these people are crazy for being deceived by this man — the apostles knew and understood that this deception was very real and had the potential to lead many people astray.
The Apostles addressed several situations like this in their letters to the Early churches.
(Galatians 1:6-9)
I marvel that ye are so soon removed from him that called you into the grace of Christ unto another gospel: (7) Which is not another; but there be some that trouble you, and would pervert the gospel of Christ. (8) But though we, or an angel from heaven, preach any other gospel unto you than that which we have preached unto you, let him be accursed. (9) As we said before, so say I now again, If any man preach any other gospel unto you than that ye have received, let him be accursed.
(Galatians 3:1) O foolish Galatians, who hath bewitched you, that ye should not obey the truth, before whose eyes Jesus Christ hath been evidently set forth, crucified among you?
(2 Corinthians 11:3) But I fear, lest by any means, as the serpent beguiled Eve through his subtilty, so your minds should be corrupted from the simplicity that is in Christ.
(1 Timothy 4:1) Now the Spirit speaketh expressly, that in the latter times some shall depart from the faith, giving heed to seducing spirits, and doctrines of devils;
As Christians, It is important for us not only to be vigilant for our own souls — but also for the souls of our brethren. If we see infants in Christ being seduced and lead away from the gospel of Christ — We have a responsibility to lead them back on the right path.
Fortunately the Bible tells us how to determine whether an individual is operating in the Spirit of God or a spirit of antichrist.
(1 John 2:18) Little children, it is the last time: and as ye have heard that antichrist shall come, even now are there many antichrists; whereby we know that it is the last time.
(1 John 2:22) Who is a liar but he that denieth that Jesus is the Christ? He is antichrist, that denieth the Father and the Son.
(1 John 4:1-3) Beloved, believe not every spirit, but try the spirits whether they are of God: because many false prophets are gone out into the world. (2) Hereby know ye the Spirit of God: Every spirit that confesseth that Jesus Christ is come in the flesh is of God: (3) And every spirit that confesseth not that Jesus Christ is come in the flesh is not of God: and this is that spirit of antichrist, whereof ye have heard that it should come; and even now already is it in the world.
(2 John 1:7) For many deceivers are entered into the world, who confess not that Jesus Christ is come in the flesh. This is a deceiver and an antichrist.
To the Reader:
Have you ever encounter a doctrine such as this?
What Did you say? How Did you handle it?

Deon is a Thought-Leader, Philosopher, Researcher, Entrepreneur, Internet marketer, and Social-Media extraordinaire.

After spending years studying the inner workings of the Cyber world, Deon has been given many titles as a direct result of his expertise on a wide array of platforms -- both online and off.

But whether the subject is Marketing, Advertising, Blogging, Branding, Web Metrics, Systems Design, Advanced Social-Media integration, Research, or Investigation -- Deon has definitely earned a prominent name for himself within the cyber community.

However, the only title he actually values is... "Christian"

Latest posts by Deon (see all)