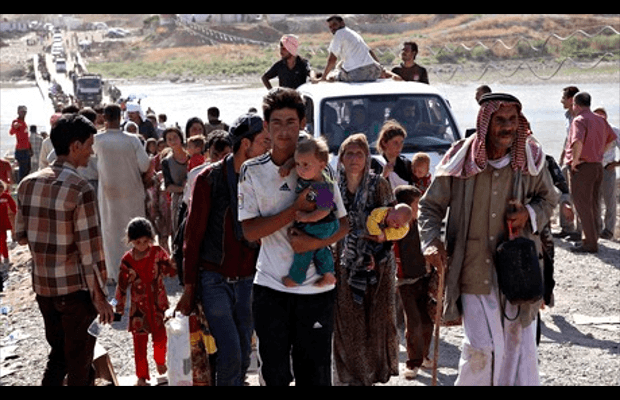 Christian Persecution in Iraq
Since it's invasion of Iraq, ISIS continues to make a valiant effort to rid the region of all religious and ideological opposition.
As a result, Christians continue to be #1 on the ISIS "Kill List" and are currently being chased from city to city. However with ISIS taking over even more of Iraq and Syria, Christians are literally running out of places to flee.
Yet even with all of this happening, The American President refuses to take a stand and whole-heartedly fight back against the Islamic regime. He talks about how awful their actions are, yet he continues to sit idly by and use the false pretence of "War" to justify his inaction.
In addition, Congress (as a whole) has also turned a deaf ear, ignoring the cries of thousands of Christians being massacred for their Faith.
Yet even with the apparent failure of the US government on this issue, there are many Americans who continue to stand and fight for the persecuted Christians in the Middle-east.
According to reports, a first-generation American of Iraqi descent has established an "underground railroad" in order to help rescue Iraqi Christians escape ISIS.
Mark Arabo set up the minority Humanitarian foundation to help Chaldean Christians and other religious minorities in the region flee from the Islamic persecution that has already lead to the death of many Christians and non-radical Muslims.
According to Mark, he was simply sick of watching the failure of Washington to actually address the serious threat and humanitarian issue.
As reported by Christian Today:
"San Diego suburb El Cajon is home to about 60,000 Chaldeans, the second largest number after Detroit. Many have already fled there and 27 are in custody with US immigration services, with 15 ordered to be deported and five facing charges for entering the US under false pretences. Some have fled to other countries and been granted asylum. Arabo, aged 32, said those left behind in Iraq were facing a "Christian genocide"

"Fadi Hirmiz, a 38-year-old Chaldean Catholic, told the newspaper he was able to get out with Arabo's help after Islamic State moved on his home in norther Iraq last summer. Speaking through an interpreter he said: "ISIS was getting closer and closer to our village. I was afraid for my family, for our kids.""

"He explained how Arabo's escape system works. The family boarded a truck their village, Batnaya, and rode to Turkey where they were given tickets to fly through Europe to Mexico. They entered the US through San Ysidro on the border and have applied for asylum. For a family of four the cost is about $25,000."
According to Arabo: "The underground railroad wasn't our first choice. It was our last choice."

Deon is a Thought-Leader, Philosopher, Researcher, Entrepreneur, Internet marketer, and Social-Media extraordinaire.

After spending years studying the inner workings of the Cyber world, Deon has been given many titles as a direct result of his expertise on a wide array of platforms -- both online and off.

But whether the subject is Marketing, Advertising, Blogging, Branding, Web Metrics, Systems Design, Advanced Social-Media integration, Research, or Investigation -- Deon has definitely earned a prominent name for himself within the cyber community.

However, the only title he actually values is... "Christian"

Latest posts by Deon (see all)