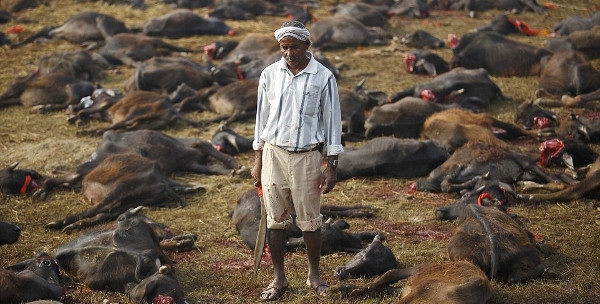 Disaster strikes Nepal:
On April 25, 2015 there was a 7.8 magnitude Earthquake that struck Nepal and surrounding regions. The earthquake killed more than 7,000 people and reportedly injured over 14,000. The quake was so intense that it triggered an avalanche on Mount Everest that killed at least 19.
In addition, hundreds of thousands were reportedly rendered homeless as a result. (Learn More)
However what many have deemed ironic is the fact that this national catastrophe took place just a short 6 months after the popular nation-wide festival known as "Gadhimai".
What is the Gadhimai Festival?
The Gadhimai festival is a sacrificial ritual that takes place every 5 years in which the inhabitants of the land sacrifice thousands of animals (water buffaloes, pigs, goats, cows, rats, pigeons) to Gadhimai — the goddess of power and prosperity.
As alluded to earlier, the last festival took place November 28, 2014. However this was immediately followed by the 7.8 Magnitude Earthquake 6 months later.
According to Wikipedia:
"About 2 million people participate in the festival, Madheshi and more than 80% of the devotees are the people from the Indian states of Bihar and Uttar Pradesh. Attending the festival in Nepal circumvents the ban on animal sacrifice in their own states participants believe that animal sacrifices to the Hindu goddess Gadhimai will end evil and bring prosperity."
Although we all can agree that the quake that hit the region was truly a travesty, at the very least we must also agree that it was extremely ironic.
After spending weeks slaughtering animals to appease the 'goddess' of power and prosperity, for this to happen just 6 months later… one can only conclude 1 of 2 things.
She wasn't very appeased
They were trying to appease the wrong 'god' (1 Kings 18:25)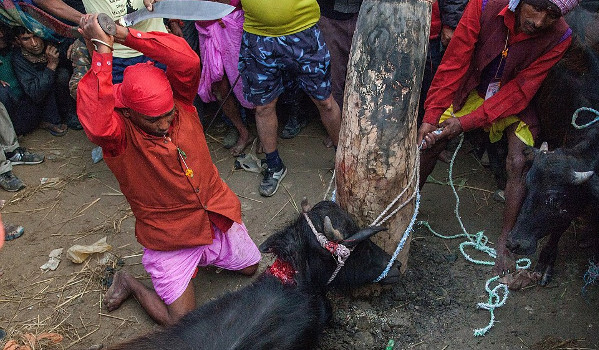 Deon is a Thought-Leader, Philosopher, Researcher, Entrepreneur, Internet marketer, and Social-Media extraordinaire.

After spending years studying the inner workings of the Cyber world, Deon has been given many titles as a direct result of his expertise on a wide array of platforms -- both online and off.

But whether the subject is Marketing, Advertising, Blogging, Branding, Web Metrics, Systems Design, Advanced Social-Media integration, Research, or Investigation -- Deon has definitely earned a prominent name for himself within the cyber community.

However, the only title he actually values is... "Christian"

Latest posts by Deon (see all)