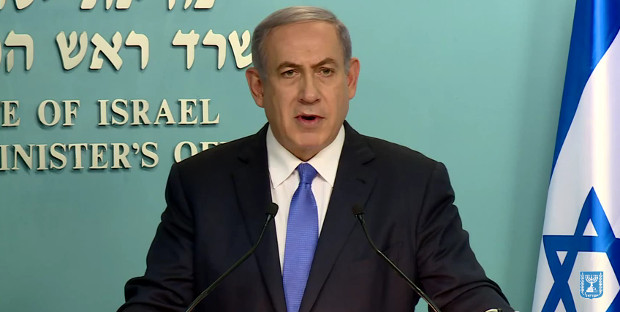 President Obama squashing Debate:
According to Benjamin Netanyahu, the Prime Minister of Israel, supporters of President Obama's deal with Iran (including President Obama himself) are attempting to squash the debate and silence all opposition to the President's false narrative (that the only alternative to this deal was war).
Prime Minister Benjamin Netanyahu made it clear that the Jewish people were in a historic position to strongly resist the existential threat presented by a Nuclear armed Iranian regime that has been bent on the destruction of Israel for the last 6 decades (something that continues even now).
As reported by Algemeiner:
"Israeli Prime Minister Benjamin Netanyahu accused the Obama administration and other supporters of the Iran nuclear deal on Tuesday of squashing debate, especially as the public's knowledge of the agreement has expanded.
Saying the Jewish people were in a historic position to loudly oppose an existential threat such as the one posed by Iran, whose military and proxies "on three borders" target every major Israeli city, Netanyahu called on the U.S. Jewish community in a conference call to oppose the current deal with Iran, which Congress must vote on by September."
In addition, the Israeli PM struck back at Obama Administration officials who continued to push the argument that no viable alternatives to the deal had been presented, and that the opponents of the deal simply want war.
Netanyahu reminded the supporters of the deal that he made multiple viable propositions when he came and spoke to Congress, yet President Obama simply rejected them for his own reasons.
"The Israeli prime minister said he offered dismantling Iran's nuclear program in exchange for dismantling the sanctions regime, and then he had suggested during his controversial speech to Congress earlier this year significantly rolling back Iran's program and conditioning the lifting of sanctions on Iran's reversing its expansionist policy in the Middle East, after the U.S. "backed off" the first option."

Deon is a Thought-Leader, Philosopher, Researcher, Entrepreneur, Internet marketer, and Social-Media extraordinaire.

After spending years studying the inner workings of the Cyber world, Deon has been given many titles as a direct result of his expertise on a wide array of platforms -- both online and off.

But whether the subject is Marketing, Advertising, Blogging, Branding, Web Metrics, Systems Design, Advanced Social-Media integration, Research, or Investigation -- Deon has definitely earned a prominent name for himself within the cyber community.

However, the only title he actually values is... "Christian"

Latest posts by Deon (see all)