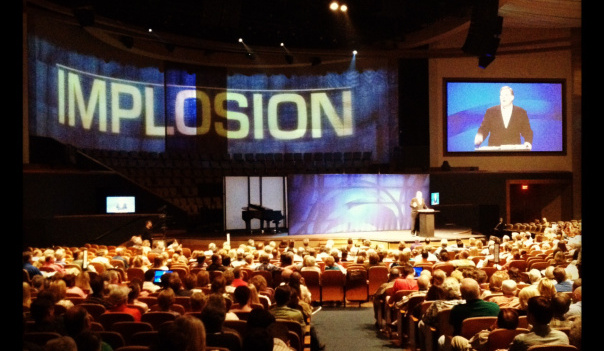 Moral Implosion or Spiritual Explosion?
As time marches on, we can't help but notice that many Christians are beginning to WAKE UP to the fact that there is truly something
unprecedented
happening in our Country, within America.
Whether it is the racial tension, the growing threat of radical Islam, the global push for a one-world government, or the demonization of basic Christian values — Christians everywhere(despite denominational differences) are starting to agree that there is definitely a 'Shaking' taking place in this Country.
It seems as if the very foundation of America is being eroded. People no longer know the difference between Good and Evil, instead they have began to Love the evil while despising the good (Amos 5:15).
Not only that, but with each passing day our Nation dives deeper into financial debt while plunging even deeper Spiritual and Moral darkness.
While doing a little research, I stumbled across a post written by New York Times best-selling Author Joel C. Rosenberg that presented a question that I think many of us are wondering:
"What is happening to America?"
Here is a snippet of his Article.
Rosenberg: "Something is Coming. I don't know What"
"The United States is hurtling towards severe trouble, and the events of the past few months — and what may be coming over the next few months — grieves me a great deal.
Something is coming. I don't know what. But we all must be ready in every possible way.
Consider where we are in the summer of 2015:
Violence is exploding in our cities, schools and churches. The horrific mass murder inside the church in Charleston would be bad enough if it wasn't just one of innumerable mass killings that have become epidemic in America.
Racism is tearing us apart, and it appears things are getting worse, not better.
The Supreme Court is poised to rule any day now on the definition and future of marriage — and if the Court rules against Biblical marriage I believe this could cause the Lord's hand to turn against our country in a severe and profound way according to the moral laws found in Romans chapter one.
Abortions are occurring at more than one million in year and have put America on the fast track to judgment. Since 1973, Americans have murdered 57 million children through abortions. The blood of 57 million babies is crying out for justice, and they will get it in God's sovereign timing. Could that be soon?
If all this wasn't bad enough, marriages and families are imploding all around us. Poverty is growing. Drug and alcohol use is epidemic. And that's just here at home.
Abroad, Iran is closing in on The Bomb.
ISIS is exploding across the Middle East, and gaining ground in Syria, Iraq and Libya.
The Kremlin is growing more aggressive.
Yet our politicians continue to bicker, stall, or golf, even as many abdicate their Constitutional responsibilities.
And many Americans have little or no hope for the future, have little confidence in government, little confidence in the media or academia, and far too little confidence in the Church. Indeed, many see little or no reason to go to church, and are drifting from whatever faith they might have once had in the Lord Jesus Christ.
Not all is lost. There are many Americans who love Christ dearly and love His Word and are seeking every day to walk with the Lord and love their neighbors and care for the poor and make the good news of God's redeeming love known to their lost and drifting nation.
But warnings signs are flashing everywhere. Alarm bells are ringing everywhere. Far too many self-professed Christians are groggy or asleep, and we need a wake up call.
So, is America heading for implosion, or revival?"
READ MORE: Joel C. Rosenberg | Something is Coming

Deon is a Thought-Leader, Philosopher, Researcher, Entrepreneur, Internet marketer, and Social-Media extraordinaire.

After spending years studying the inner workings of the Cyber world, Deon has been given many titles as a direct result of his expertise on a wide array of platforms -- both online and off.

But whether the subject is Marketing, Advertising, Blogging, Branding, Web Metrics, Systems Design, Advanced Social-Media integration, Research, or Investigation -- Deon has definitely earned a prominent name for himself within the cyber community.

However, the only title he actually values is... "Christian"

Latest posts by Deon (see all)