The Pope challenges Biblical Christianity:
On September 2, 2014 — Pope Francis openly stated from his Twitter account that any Christian who does not feel that the Virgin Mary is his or her mother is an "orphan".
Before I go any further into this post, I want to start by stating that I know that there are many good people in the world who happen to be Catholic. The problem is not with Catholics in general, but rather with Catholicism.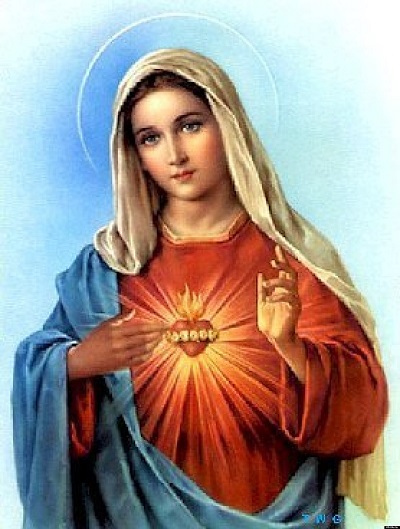 I can't speak for anyone else, but as a Christian I was extremely offended by this.
Pope Francis is essentially saying that anyone who will not worship Mary (as their "Mother") is not a real Christian — yet there is not ONE scripture that sustains this. In fact there are many scriptures that OPPOSE this (later in the post).
Similar Article: Pope Francis Pushing for RFID?
Furthermore, what (or who) gives the Pope the authority to classify Christians who have placed their faith in Jesus Christ as "orphans" simply because they refuse to worship Virgin Mary? (which is idolatry)
And to make matters worse, in 1854 The Papacy declared Mary as "Sinless", and in 1951 they stated that she had now ascended up into heaven where she was then crowned "Queen of Heaven".
(You would think that she would have ascended almost 2,000 years before 1951,
but I guess she was waiting for the L.A. Rams to win the Super-bowl)
But according to Catholicism, The Virgin Mary now acts as a mediator between God and humanity. Whenever humans sin against God they must confess their sins to the pope and then "Hail Mary" (worship Mary) 50-times or so (depending on what they have done) in order to be forgiven for their sins.
BUT WAIT — according to the Bible, isn't Jesus the only Mediator between God and Humanity?
After all, Jesus clearly told the following to his disciples
(John 14:6) "Jesus saith unto him, I am the way, the truth, and the life: no man cometh unto the Father, but by me."
Clearly something is not right (according to Catholicism),
Did Jesus forgot that his mother Mary could also save the world from their sins?
---
Who Needs The Bible when you have a Pope?
Although I find it fascinating that Pope Francis is bold enough to stand up in front of a crowd of thousands and contradict the bible, I find it disgustingly appalling that these same crowds are blindly following.
The Bible tells us that all Christians who receive Jesus as their Lord and savior and are lead by the spirit of God are now the SONS of God despite what Pope Francis or anyone else can say.
(Romans 8:15) For ye have not received the spirit of bondage again to fear; but ye have received the Spirit of adoption, whereby we cry, Abba, Father.
Therefore for the Pope to make such a statement is a direct challenge the the authority of God's scripture. But instead of the Pope realizing that he must be wrong on the issue if he contradicts the word of God, he instead tells the people that they are not translating the message right and should trust what HE thinks the Bible is saying.
Wow, talk about dictatorial.
Christianity & Catholicism: What's The Difference?
Although there are many differences between Christianity and Catholicism,
when it all boils down to it — here is the main difference…
Catholicism exalts the traditions of Men above the Word of God.

When Jesus walked the earth, he frequently encountered the Pharisees and the Scribes (religious leaders).
These religious leaders had gotten so caught up with following the traditions of Men that they would actually exalt these traditions above the basic elements of God's Law.
In fact, here is one encounter that Jesus had where he rebuked the hypocritical religious leaders for exalting their own traditions above the Word of God…
(Mark 7:5) Then the Pharisees and scribes asked him, Why walk not thy disciples according to the tradition of the elders, but eat bread with unwashen hands?
(Mark 7:6) Jesus answered and said unto them, Well hath Esaias prophesied of you hypocrites, as it is written, This people honoureth me with their lips, but their heart is far from me.
(Mark 7:7) Howbeit in vain do they worship me, teaching for doctrines the commandments of men.
(Mark 7:8) For laying aside the commandment of God, ye hold the tradition of men, as the washing of pots and cups: and many other such like things ye do.
(Mark 7:9) And he said unto them, Full well ye reject the commandment of God, that ye may keep your own tradition.
Throughout the Life of Jesus you will frequently hear him rebuke the Scribes and Pharisees for their wickedness, but he also warned his disciples of their deception.
(Matthew 16:6) Then Jesus said unto them, Take heed and beware of the leaven of the Pharisees and of the Sadducees.
(Matthew 16:12) Then understood they how that he bade them not beware of the leaven of bread, but of the doctrine of the Pharisees and of the Sadducees.
This is essentially what we see happening all over the world today, Many of the Catholic doctrines are man-made Dogmas that are being propagated and taught as if it were the word of God.
---
GOD's Word: The Final Authority
As Christians It is important that we study God's word for ourselves. The scriptures also clearly tell Christians that they should study the word of God to show themselves approved (2 timothy 2:15)
Although there are many Catholics out there who are indeed good people and who indeed love God, Catholicism is a deeply deceptive religion that disguises itself as Christianity but slowly eases its followers into idolatry (the worship of pagan gods).
Through the word of God we know that there is but 1 God (in 3 persons).
God (The Father)
God (The Son)
God (The Holy Spirit)
The Bible tells us clearly that there are only 3 that bear witness in heaven.
(1 John 5:7) "For there are three that bear record in heaven, the Father, the Word, and the Holy Ghost: and these three are one."
Nowhere in the scripture does it mention Mary because Mary is not relevant, she is nothing more than a mere human in need of a savior — no different from you.
In fact, when one woman tried to Bless Mary (Jesus's mother) Jesus told her something that I think is significant even today…
(Luke 11:27) And it came to pass, as he spake these things, a certain woman of the company lifted up her voice, and said unto him, Blessed is the womb that bare thee, and the paps which thou hast sucked.
(Luke 11:28) But he said, Yea rather, blessed are they that hear the word of God, and keep it.
Resources:

Deon is a Thought-Leader, Philosopher, Researcher, Entrepreneur, Internet marketer, and Social-Media extraordinaire.

After spending years studying the inner workings of the Cyber world, Deon has been given many titles as a direct result of his expertise on a wide array of platforms -- both online and off.

But whether the subject is Marketing, Advertising, Blogging, Branding, Web Metrics, Systems Design, Advanced Social-Media integration, Research, or Investigation -- Deon has definitely earned a prominent name for himself within the cyber community.

However, the only title he actually values is... "Christian"

Latest posts by Deon (see all)