Iran Deal: Rising Tensions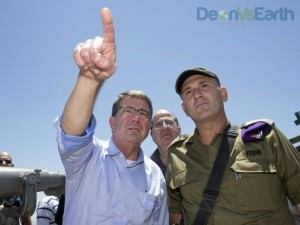 As most of you are probably already aware, There has long been "Tension" between Israel and The Obama Administration (not America).
The truth is, the majority of Americans love Israel and the majority of Israelis love America — yet under the leadership of The Obama Administration we are witnessing the strong bond that once fortified the two nations (Israel and America) — be weakened.
At every turn, it seems as if this administration could care less about the safety and security of Israel, America's closest ally and friend. And now we are witnessing the direct result of the hostility between the two administrations.
According to reports, Israel has refused to take part in a joint military Exercise with the United States (more specifically, with The Obama Administration) that was scheduled for early 2016, Israel's NRG reported on Friday.
Of course, it is highly unlikely that the timing of this rejection is merely a coincidence considering the fact that despite Israel's opposition, President Obama brokered a deal with the Iranian regime that Israel feels is a threat to it's very survival.
As reported by Algemeiner:
"The joint strategic exercise, code named "Juniper Cobra 16," is scheduled for the beginning of 2016, and should include wide-ranging cooperation, such as the testing of a missile defense system that will be based on American capabilities.
The date of the joint exercise was set years ago, but problems have emerged in recent weeks. While it appears that the Americans are eager to go ahead with the cooperation for the exercises, in a move that may be the first of its kind, the political echelon in Jerusalem has decided against allowing the IDF to join the initiative."
However this is not Israel's first refusal of American assistance since the Iranian Nuclear Negotiations have taken place.
"During last month's visit by Defense Secretary Ashton Carter, Israeli Defense Minister Moshe Ya'alon declined to discuss a "compensation package" that the United States intended to propose to Israel following the Iran deal. "Now it appears that the [Israeli] 'annoyance' is continuing and even getting worse," said NRG."

Deon is a Thought-Leader, Philosopher, Researcher, Entrepreneur, Internet marketer, and Social-Media extraordinaire.

After spending years studying the inner workings of the Cyber world, Deon has been given many titles as a direct result of his expertise on a wide array of platforms -- both online and off.

But whether the subject is Marketing, Advertising, Blogging, Branding, Web Metrics, Systems Design, Advanced Social-Media integration, Research, or Investigation -- Deon has definitely earned a prominent name for himself within the cyber community.

However, the only title he actually values is... "Christian"

Latest posts by Deon (see all)