Sunday, September 14, 2014 —
Washington Redskins Quarterback RG3 (Robert Griffin III) dislocated his left ankle in a game against the Jacksonville Jaguars.
Yesterday, while Griffin was preparing to talk to the media about the progress of his dislocated of his left-ankle — you could notice the very stylish tee-shirt that Griffin was sporting that read 'Know Jesus Know Peace'.
Somehow between Griffin's time in the Locker-room and the time that he came out to meet the press — you will notice that something has changed about his apparel
(spotted by Dan Steinberg and JP Finlay)
can you spot it?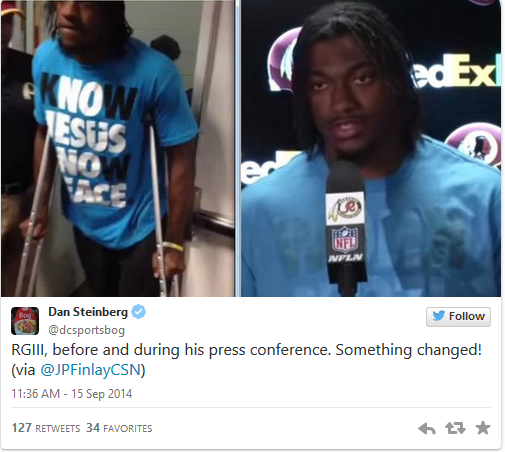 RG3's shirt has been flipped inside-out in an obvious attempt to hide the religious reference to Jesus Christ.
According to sources, the reason RG3 turned his shirt inside out was because the NFL has strict rules pertaining to what clothing the players can wear during post-game interviews.
But according to Dan Steinberg (Sports blogger for the Washington post), the shirt that RG3 was wearing was made by a company named Not of this World.
Steinberg also noted that this shirt seemingly does not violate any contracts that the NFL has with NFL apparel companies such as NIKE because players and coaches are not required to wear NFL-Sponsored apparel during news conferences.
America: Religious Freedoms for ALL (except Christians)
I have no doubt that someone saw RG3's shirt and advised him that he should probably turn it inside out in order to avoid offending other religious groups. Although I am disappointed that RG3 complied to their request, I do not hold him to blame.
With each passing day it seems as if America takes one step closer to banishing Christianity entirely. All over America, Christians are told that they cannot openly share or practice their faith because someone may be "Offended" — yet other religious groups are permitted to freely Worship (or not worship) and proselytize as they please.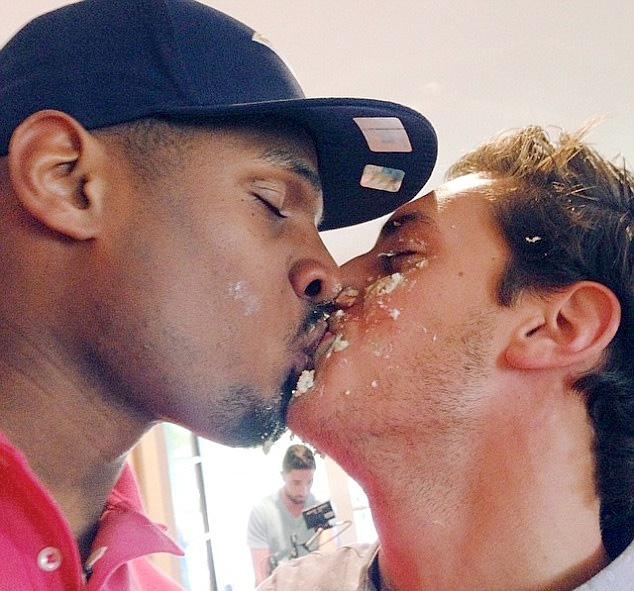 In fact, several months ago — Michael Sam became the world's first openly gay professional football player and celebrated his success by french-kissing his boyfriend on national television.
I find it strange that this was perfectly acceptable, but RG3 needed to hide his shirt about Jesus.
How messed up is that?
Christians are allowing political correctness to stifle our religious freedoms. We are essentially being told that it is okay for us to be Christians at home — so long as we don't bring it out into the public
Although we have a religious duty to honor the law and those in places of power
— we have an even greater duty to honor our God and our Creator.
As the apostle Paul famously said….
"Shall we obey Man rather than GOD?" (Acts 5:29)
Resources:

Deon is a Thought-Leader, Philosopher, Researcher, Entrepreneur, Internet marketer, and Social-Media extraordinaire.

After spending years studying the inner workings of the Cyber world, Deon has been given many titles as a direct result of his expertise on a wide array of platforms -- both online and off.

But whether the subject is Marketing, Advertising, Blogging, Branding, Web Metrics, Systems Design, Advanced Social-Media integration, Research, or Investigation -- Deon has definitely earned a prominent name for himself within the cyber community.

However, the only title he actually values is... "Christian"

Latest posts by Deon (see all)