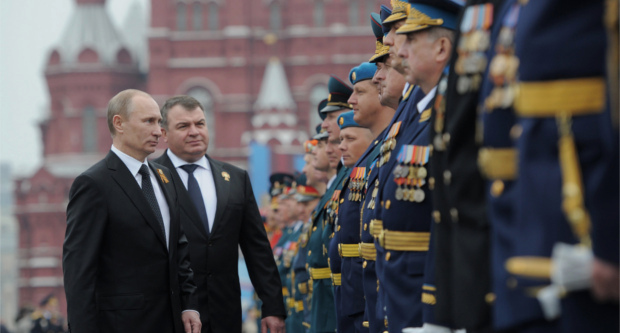 Russian President taking Fight to ISIS
Unlike many other Nations, Russia has literally put it's money where it's mouth is. Russia has undoubtedly taken the fight to the Islamic State in conducting large-scale military operations targeting ISIS operations in Syria.
However there are some who claim that Russia's efforts in the Region are making seemingly insignificant progress against the terror network. Thus in a meeting with his Defense Minister, Russian President Vladimir Putin hinted at his openness towards using Nuclear weapons against the Islamic State if necessary.
As Reported by RT:
"Vladimir Putin has praised the Russian cruise missiles fired against terrorists in Syria from the sea. He expressed hope that these weapons would not have to be armed with nuclear warheads.
Meeting in the Kremlin with Defense Minister Sergey Shoigu, who reported the latest results of the anti-Islamic State (IS, formerly ISIS/ISIL) ops in Syria, the Russian president made a notable remark."
"We must analyze everything happening on the battlefield, how the weapons operate. The Kalibrs (sea based cruise missiles) and KH-101 (airborne cruise missile) have proved to be modern and highly effective, and now we know it for sure – precision weapons that can be equipped with both conventional and special warheads, which are nuclear," Putin said.
"Naturally, this is not necessary when fighting terrorists and, I hope, will never be needed," the president added.
According to reports, A Russian Kilo-class submarine fired a barrage of Kalibr-PL cruise missiles at an ISIS compound near the terrorists' stronghold in Raqqa, Syria.
The water-to-surface cruise missiles were reportedly launched from a submerged submarine in the Mediterranean Sea according to Russia's Defense minister.

Deon is a Thought-Leader, Philosopher, Researcher, Entrepreneur, Internet marketer, and Social-Media extraordinaire.

After spending years studying the inner workings of the Cyber world, Deon has been given many titles as a direct result of his expertise on a wide array of platforms -- both online and off.

But whether the subject is Marketing, Advertising, Blogging, Branding, Web Metrics, Systems Design, Advanced Social-Media integration, Research, or Investigation -- Deon has definitely earned a prominent name for himself within the cyber community.

However, the only title he actually values is... "Christian"

Latest posts by Deon (see all)