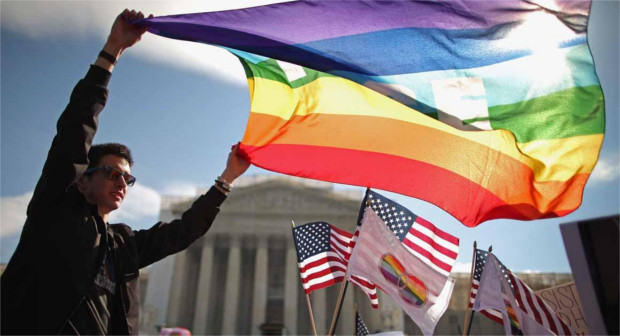 TEXAS: 'Only GOD is Supreme'
The top law officer in Texas has called the most recent Supreme-Court decision a "lawless ruling" and has since vowed to fight against it by supporting state-employees who refuse to marry same-sex couples on 'religious' grounds.
As many of you already know, the Court ruled on Friday that every American has a constitutional right to be married and essentially declared it legal nation-wide.
However according to Texas attorney General Ken Paxton, Clerks and employees who refuse to issue marriage licenses to same-sex couples could be fined, persecuted, or fired.
However he vowed to defend them in Court 'Free of Charge' in order to combat the Supreme Court ruling.
---
Like Us on FB!
---
In addition, many more opponents of the Supreme Court's decision are 'revving up' for an outright battle (in court) to protect the freedoms of those who object to same-sex marriage for religious reasons.
"This newly minted federal constitutional right to same-sex marriage can and should peaceably coexist with longstanding constitutional and statutory rights, including the rights to free exercise of religion and freedom of speech," Mr Paxton wrote in a memo to state employees.
However it has been reported that many gay couples in Texas have already been 'wed' since Friday's ruling, but couples in nearby Countries like Mississippi have been blocked from obtaining marriage licenses.
Jim Hood (Mississippi Attorney General) stated that same-sex marriage would not become Legal in the State of Mississippi until the US 5th Circuit Court of appeals gives the Green Light. However it is unclear when the Court will act.
An official in Louisiana stated that there was nothing in the ruling that declared that the marriage licenses must be available immediately, however the State began issuing licenses on the following Monday.
"We don't have a choice," Louisiana Governor Bobby Jindal told NBC News on Sunday. "Our agencies will comply with the court order."
However Jindal made it clear that he felt the ruling was a gross violation of individual freedoms:
"I think it is wrong for the federal government to force Christian individuals, businesses, pastors, churches to participate in wedding ceremonies that violate our sincerely held religious beliefs,"
He continued:
"We have to stand up and fight for religious liberty. That's where this fight is going,"

Deon is a Thought-Leader, Philosopher, Researcher, Entrepreneur, Internet marketer, and Social-Media extraordinaire.

After spending years studying the inner workings of the Cyber world, Deon has been given many titles as a direct result of his expertise on a wide array of platforms -- both online and off.

But whether the subject is Marketing, Advertising, Blogging, Branding, Web Metrics, Systems Design, Advanced Social-Media integration, Research, or Investigation -- Deon has definitely earned a prominent name for himself within the cyber community.

However, the only title he actually values is... "Christian"

Latest posts by Deon (see all)