Taryn Terrel converts to Christianity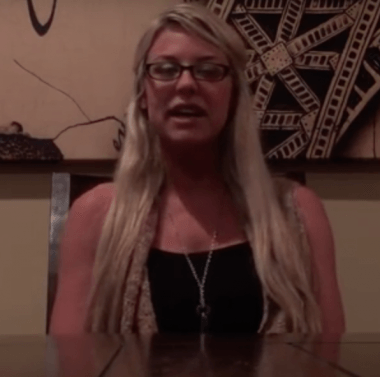 In a move that left many of her former friends, employers, and co-workers stunned, former WWE Wrestler and Playboy model Taryn Terrell dropped both of her careers in order to pursue Jesus Christ.
Taryn Terrell outlined in a 10 min Youtube video (see below) how she was sitting in Church one day and felt a "profound" urge to do something in order to reach out to other Christians like herself who are relatively new to the Christian Faith.
"I was always searching for something. I knew that I wanted to be a believer, I knew that I wanted to believe in God, And I wanted to go to church and worship. And I felt all those things – but I never put in the time and the energy "
She continued:
"To have a good relationship with anywone, a friend, a spouse — there is a lot of time and energy that goes into that. And so how can I have a relationship with God, how can I call myself a Christian if I don't put anything into that relationship."
For those who are unfamiliar with her, Terrell is a Former Playboy model who performed with the WWE under the stage name "Tiffany".
Although she had always wanted to be a Christian and sometimes even considered herself one, she soon realized that the life she was leading was not quite lining up with the life that Jesus commanded of his disciples.
Terrell went on to explain that although she desired to be a Christian, As she began to sink deeper into the depths of stardom — that desire began to take a backseat to her career and the "Temptations" of the Entertainment industry.
"I've lived in the regular world and I've lived in the entertainment world, there is temptation in both — but there is something about being "on the road" and living that sort of life and party life-style — you are tempted ten fold."
However here is Taryn's amazing story:

Deon is a Thought-Leader, Philosopher, Researcher, Entrepreneur, Internet marketer, and Social-Media extraordinaire.

After spending years studying the inner workings of the Cyber world, Deon has been given many titles as a direct result of his expertise on a wide array of platforms -- both online and off.

But whether the subject is Marketing, Advertising, Blogging, Branding, Web Metrics, Systems Design, Advanced Social-Media integration, Research, or Investigation -- Deon has definitely earned a prominent name for himself within the cyber community.

However, the only title he actually values is... "Christian"

Latest posts by Deon (see all)