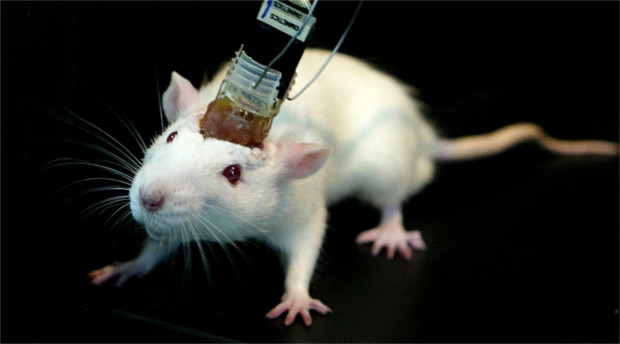 Technological Mind Control?
As technology advances, we will undoubtedly be faced with a new set of moral and ethical boundaries that, if we are not careful, could lead us down a very dark and sinister path.
The purpose of this post is to alert our readers that something that was once considered nothing more than "Science Fiction" has just been promoted to Science Fact.
For years the neuro-scientific community has been plagued with the question of whether it is possible to use some sort of device to control the actions and/or the behavior of another creature.
Today that question has been answered.
According to reports, neuroscientists have successfully developed and tested a remote-controlled brain implant in Mice that allows them (humans) to send signals to the tiny brains of the mice and cause them to perform certain actions.
Although this technology has not been fully mastered, Scientists have shown that they can successfully control which path a Mouse takes by using the device "poke" the brain of the creature.
As reported by RT News:
"The implant, which is narrower than a human hair, alters the neural networks of the mice using wireless signals, allowing researchers to study neural stimulation without invasive procedures.
The "optofluidic" implant was developed by a team from the Washington University School of Medicine and the University of Illinois with the hope that it could one day be used to treat a range of neurological disorders in humans by targeting therapies to the patients' specific neural networks."
Do you think this Ethical? Share your thoughts below

Deon is a Thought-Leader, Philosopher, Researcher, Entrepreneur, Internet marketer, and Social-Media extraordinaire.

After spending years studying the inner workings of the Cyber world, Deon has been given many titles as a direct result of his expertise on a wide array of platforms -- both online and off.

But whether the subject is Marketing, Advertising, Blogging, Branding, Web Metrics, Systems Design, Advanced Social-Media integration, Research, or Investigation -- Deon has definitely earned a prominent name for himself within the cyber community.

However, the only title he actually values is... "Christian"

Latest posts by Deon (see all)