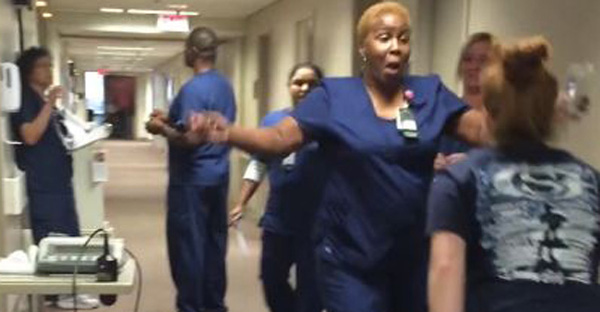 Paralyzed girl Walks:
DENTON, Texas — A video was posted to Facebook last week that shows the reaction of a nurse when she sees one of her paralyzed patients stand up for the first time in 11 days.
Bailey Murril (paralyzed) was suffering from complete paralysis from the waist down yet there was no explanation why.
However 11 days after the paralysis began, Bailey regained her ability to walk. But instead of calling the nurse and informing her, she decided to surprise her on her shift.
The story was posted to Facebook by Becky Miller, Bailey's mom:
"Our daughter, Bailey, had complete paralysis from the waist down for 11 days with no explanation as to why. This video is one of her favorite nurses coming onto her shift and not knowing that Bailey had started walking this day."
As many of you saw, the Nurse burst into tears when she saw the young woman stand up and begin walking for the first time since the mysterious paralysis struck.
"Oh Jesus, Thank you Lord, Thank You." shouted the Nurse.
In tears she continued "Oh I have been praying for you"
I guess this just goes to show that there is power in prayer 🙂

Deon is a Thought-Leader, Philosopher, Researcher, Entrepreneur, Internet marketer, and Social-Media extraordinaire.

After spending years studying the inner workings of the Cyber world, Deon has been given many titles as a direct result of his expertise on a wide array of platforms -- both online and off.

But whether the subject is Marketing, Advertising, Blogging, Branding, Web Metrics, Systems Design, Advanced Social-Media integration, Research, or Investigation -- Deon has definitely earned a prominent name for himself within the cyber community.

However, the only title he actually values is... "Christian"

Latest posts by Deon (see all)