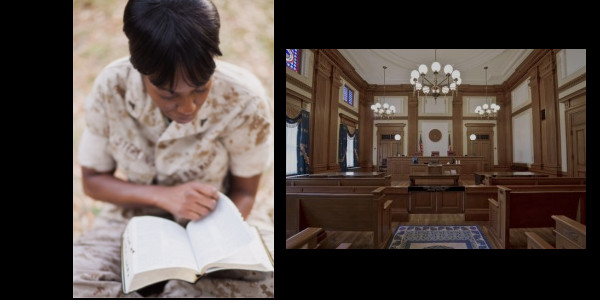 Religious Freedom under Fire:
A U.S. Marine was reportedly court-martial'd and convicted after refusing to remove a bible-verse from her computer workstation. However, after the story began to gain momentum — Liberty Institute (a religious liberty law firm) took it upon itself to come to her aid.
They are now appealing the decision.
According to reports, lance Corporal Monifa Sterling was prosecuted for displaying a paraphrased version of Isaiah 54:17 "No weapon formed against me shall prosper" on her computer while stationed at Camp Lejune in North Carolina.
However instead of seeking a legal representative, Sterling chose to represent herself in her trial, citing that she reserved the right to express her faith freely under the first Amendment.
Unfortunately, she lost the case.
Not long after, she appealed the decision to the Navy-Marine Corps Court of criminal appeals. Again, she lost.
Sterling was told that displaying a bible-verse did not constitute as religious exercise. In addition, she was charged with disrespect to a commissioned officer (amongst other offenses) and was demoted to 'Private' and discharged with bad conduct.
She is now unemployed.
Sterling: "No Weapon formed against Me"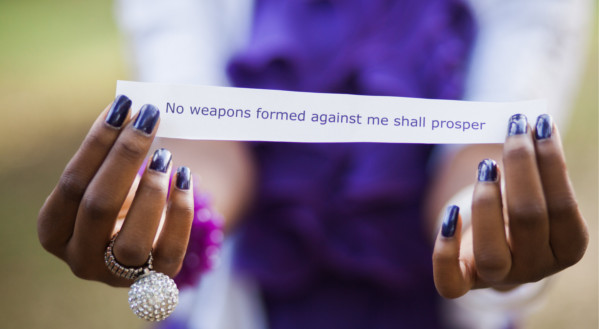 When Liberty Institute took up Sterling's case, they lodged an appeal with the Court of Appeals for the Armed Forces — the highest military court in the U.S.
When questioned about the incident, Sterling stated that she decided to place the wallpaper after she noticed that others had put personal items around their workspace. However when her supervisor told her to remove it, she questioned him by asking why she needed to remove the passage (when others were allowed to post their personal items in their workspace).
"I don't like the tone" the supervisor responded.
Despite her supervisor's instructions, Sterling refused to remove it. However the supervisor reportedly returned and tossed it into the computer's trash bin.
The situation escalated from there.
"If the government can order a Marine not to display a Bible verse, they could try and order her not to get a religious tattoo, or go to church on Sunday," said Mike Berry, Liberty Institute Director of Military Affairs and Senior Counsel. "Restricting a Marine's free exercise of religion is blatantly unconstitutional."
Berry added: "If a service member has a right to display a secular poster, put an atheist bumper sticker on their car, or get a Star of David tattoo, then Lance Corporal Sterling has the right to display a small Bible verse on her computer monitor."
---
Like Us on FB!
---

Deon is a Thought-Leader, Philosopher, Researcher, Entrepreneur, Internet marketer, and Social-Media extraordinaire.

After spending years studying the inner workings of the Cyber world, Deon has been given many titles as a direct result of his expertise on a wide array of platforms -- both online and off.

But whether the subject is Marketing, Advertising, Blogging, Branding, Web Metrics, Systems Design, Advanced Social-Media integration, Research, or Investigation -- Deon has definitely earned a prominent name for himself within the cyber community.

However, the only title he actually values is... "Christian"

Latest posts by Deon (see all)