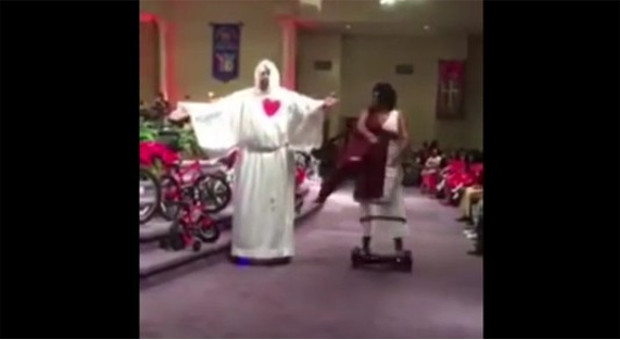 Praise Dancing on Hoverboards?
Now don't get me wrong, being a "Techy" person myself — I personally feel that sometimes, the application of new Technologies can be a good thing, even in Church.
When tablets and ipads were invented — I was one of the first to support using them in Church because the Bible apps were awesome!
We've all experienced that awkward moment when the Pastor tells us to turn to one of the least popular books in the Bible — or the ones that are super short and hard to find such as Obadiah, Jude, Nahum, or Philemon (some of us couldn't find it right now).
Furthermore we all know the embarrassment of hearing the Pastor say "Ready? Read" — while we are still flipping through chunks of pages (for some reason, Bible pages are extremely Loud)
Yet after flipping for a few more moments, some of us will either turn to the table of contents, ask our neighbor, or just give up and let everyone else read while we just sit back and listen.
However can you imagine how tedious this process can become when Pastors are quickly sifting through dozens of scriptures and passages in the Bible? (which is not uncommon)
---
Like Us on FB!
---
However Bible apps virtually eliminated this struggle because every book is listed on one screen — from there, all users need to do is click the name of the book. It couldn't get any simpler than that!
However as with all modern inventions, you always have some people who take things too far.
Instead of using the devices in Church appropriately, folks were in Church playing games, recording embarrassing things, taking pictures, etc. Furthermore Pastors all over America would constantly be interrupted by little "bells and whistles" going off all over the Church.
As a result, more traditional Pastors [understandably] request that all devices be turned off — even for those who want to use these tools to enhance their Church experience via Bible apps or Notes (talk about a little leaven leavening the whole lump).
However I am not quite sure the video you are about to watch fits into the category of 'useful' Church tools.
As Technology continues to progress, I think we should make an attempt to draw the line between useful utilities and 'Toys'– then we can determine whether they have a legitimate function in a Ministry setting.
This video shows two praise dancers doing their thing — on Hoverboards. Yes, that's right — Hoverboards.
NOTE: For those of you who are unfamiliar with Hoverboards, put simply — it is a 2-wheel self-balancing scooter capable of moving with very little human input.
Although it is not as cool as the Hoverboard in the classic Movie "Back to the Future" this practical model has become quite popular — However the application of the Hoverboard in Church has caused somewhat of a disagreement on whether it's usage in Church is 'Appropriate'.
What do you think?

Deon is a Thought-Leader, Philosopher, Researcher, Entrepreneur, Internet marketer, and Social-Media extraordinaire.

After spending years studying the inner workings of the Cyber world, Deon has been given many titles as a direct result of his expertise on a wide array of platforms -- both online and off.

But whether the subject is Marketing, Advertising, Blogging, Branding, Web Metrics, Systems Design, Advanced Social-Media integration, Research, or Investigation -- Deon has definitely earned a prominent name for himself within the cyber community.

However, the only title he actually values is... "Christian"

Latest posts by Deon (see all)