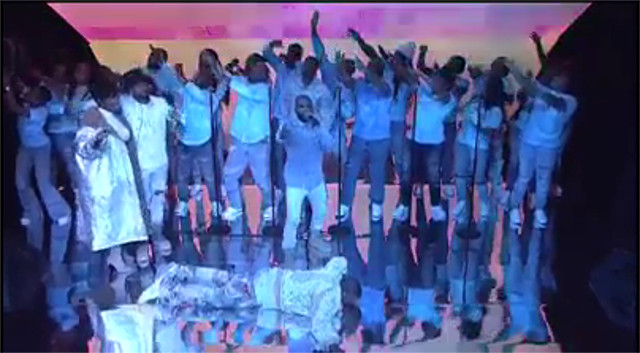 GOSPEL: Kirk Franklin Welcomes Kanye into "Gospel Music"
It is no secret that Kirk Franklin has made a series of statements since the release of his new album "Losing My Religion" that has caused many Christians to question his stance on the Gospel.
But honestly, Franklin is just one of many gospel artists that have made "Transitions" that have raised eye-brows in the Christian community.
Other artists include:
However not long ago, we wrote a post about the whispering suspicion that Kirk Franklin and Kanye West were preparing to join forces.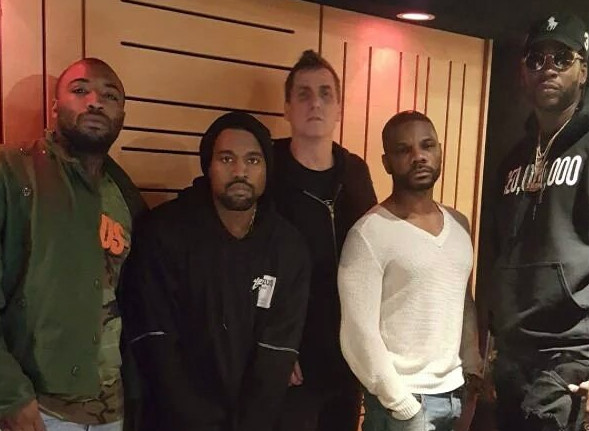 The suspicion came not long after an image was posted to the Instagram account of the rapper "'2 chainz" showing himself, Kanye West, and Kirk Franklin posing in what appeared to be a studio setting.
However because no information had emerged of an upcoming collaboration, the suspicion was merely speculation.
However today that suspicion has been verified.
The Video you are about to watch shows Kirk Franklin, Kelly Price, and Kanye West performing a weird rendition of Kanye's song "Ultralight Beam" (Original Song)
Video Credit: ExMinistries

Light "Collaborating" with Darkness?
When asked how she got involved with the track, Kelly Price stated:
"It's crazy. This track had been around for maybe a little bit [before I got involved] but I got a call from Fonzworth Bentley, who is a mutual friend of 'Ye's [Kanye's] and mine. He's the one who made the connection.

When the song started, 'Ye was on the track, Dream was on the track, and it was Fonzworth who called me and was like, 'Listen, are you in L.A.? I need you in the studio right now.' I'm like, 'No, I'm in Atlanta.' And he's like, 'Ugh. I gotta get this done.

It's this track that's kinda gospel-y but I just need people to feel God when they listen to this. I need your anointing on this track.' So that's how I got involved. That's how Kirk got involved, too."
Anyone who has ever experienced God's anointing will agree that there was absolutely NO "anointing" in that video. In fact, the entire atmosphere seemed eerily "Dark" although they continually used words like lord, god, and light.
Truthfully, it doesn't take much for a Christian to realize that this obviously had very little (if anything) to do with the God of the Bible. However if you profess to be a Christian, yet you saw nothing wrong with the video– I fear that you are "Luke-warm" (Rev 3:16).
The Bible speaks plainly about how Christians should interact with the World.
(Ephesians 5:11) "And have no fellowship with the unfruitful works of darkness, but rather reprove them."

(1 Corinth, 15:33) "Be not deceived: evil communications corrupt good manners."

(2 Corinth. 6:17) "Wherefore come out from among them, and be ye separate, saith the Lord, and touch not the unclean thing; and I will receive you,"
Kirk Franklin is a professing Christian, meaning he worships and serves the God of the Bible (and Jesus Christ, his son). However Kanye West has already made it blatantly apparent that he does not. Instead, Kanye is his own "god".
Video Interview:

… Dude is 5 performances away from a "straight-jacket".
However this type of thinking is known as "New-Ageism", and it is 100% incompatible with Christianity. Why? Because this ideology teaches that not only are we gods, but everyone and everything is "god".
This is the same lie that caused the downfall of Humanity in the first place.
(Gen. 3:5) "For God doth know that in the day ye eat thereof, then your eyes shall be opened, and ye shall be as gods, knowing good and evil."
However according to the Bible, we know that there is only ONE God. And it was He who created the Universe, the Earth, and everything in it.
(1 Corinth. 8:6) "But to us there is but one God, the Father, of whom are all things, and we in him; and one Lord Jesus Christ, by whom are all things, and we by him."

Who sent you?
Just as Christians are "Ministers" of the God — non-believers are "Ministers" of Satan (whether they realize it or not). Jesus himself even declared that there is no "middle-ground" in this fight, either you are fighting With him, or you are fighting Against him.
(Matt 12:30) "He that is not with me is against me; and he that gathereth not with me scattereth abroad."
Therefore how does it look when Ministers of Light offering "Sacrifices" with Ministers of Darkness?
(2 Corinth. 6:14) "Be ye not unequally yoked together with unbelievers: for what fellowship hath righteousness with unrighteousness? and what communion hath light with darkness?"
---
Like Us on FB!
---

Deon is a Thought-Leader, Philosopher, Researcher, Entrepreneur, Internet marketer, and Social-Media extraordinaire.

After spending years studying the inner workings of the Cyber world, Deon has been given many titles as a direct result of his expertise on a wide array of platforms -- both online and off.

But whether the subject is Marketing, Advertising, Blogging, Branding, Web Metrics, Systems Design, Advanced Social-Media integration, Research, or Investigation -- Deon has definitely earned a prominent name for himself within the cyber community.

However, the only title he actually values is... "Christian"

Latest posts by Deon (see all)