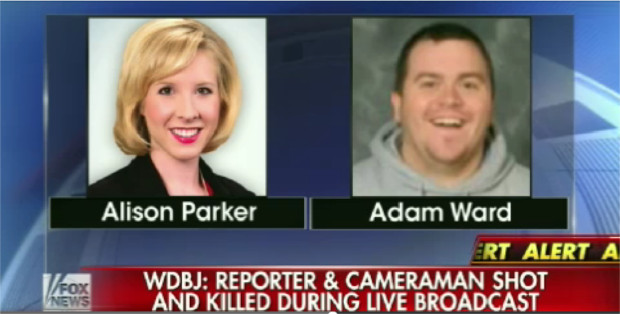 Reporters Killed on Live TV
During a Live broadcast early Wednesday morning (around 6am), hundreds of TV viewers were watching an interview that ended abruptly after the camera dropped to the ground and loud screams were heard.
Viewers also reportedly caught a glimpse of what seemed to be a man pointing a gun toward the injured camera man. However cameras were quickly redirected back to news anchor Kimberly Mcbroom who was a little disturbed back at studio.
Not long after, news emerged that WDBJ reporter Alison Parker and photographer Adam Ward had been killed by an unknown gunman while conducting a routine interview.
The Interviewee was also shot, however she is currently in the hospital and preparing to undergo surgery.
According to reports, both victims were romantically involved with other employees working at the station.
Adam Ward was engaged to a producer at the station who was celebrating her last day on the job. Sadly, she was in the control room watching Live as the shooting unfolded.
Alison Parker was reportedly in a relationship with WDBJ anchor Chris Hurst. The two had just moved together and were intending to get engaged.
---
Like Us on FB!
---
Gunman: Ex-reporter seeking vengeance?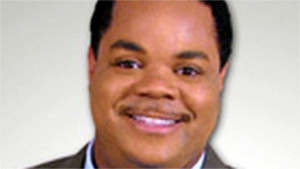 According to police, a former WDBJ-TV reporter who was wanted in connection with the on-air murders of these 2 journalist was found on I-66 in Virginia.
Vester Flanagan, who used the on-air name "Bryce Williams", was reportedly a former journalist for WDBJ — However he had been terminated for reasons that have yet to be released to the public.
As reported by CNN.com:
"Just before 11:30 a.m., Virginia State Police saw the suspect's gray Ford Mustang headed east on I-66. With emergency lights activated, a Virginia State Police trooper initiated a traffic stop, said police spokeswoman Corinne Geller.

The driver refused to stop and sped away before running off the road and crashing, Geller told CNN. Troopers found the driver inside. He had suffered a gunshot wound. "
Flanagan reportedly posted a video of the shooting to Facebook and Twitter, claiming he had recorded live footage of the 2 journalists being killed. Not long after these posts were published, the 2 social-media accounts were deleted.
However in the video released by the suspect, the gun is visible and viewers can see the footage from the perspective of the shooter. In addition, they can actually see Alison Parker being shot.
When questioned about the suspect and his termination from the news company, WDBJ General Manager Jeff Marks responded:
"Two years ago, we had to separate him from the company. We did understand that he was still living in the area,"
Around 1:30pm, the suspect died in custody from a self-inflicted gunshot wound.
However one of the suspect's tweets accused the female Victim of having made "Racist Comments" while the other accused the male victim of wrongly reporting him to Human Resources after only working with him one time.
Authorities say they do not know whether the attack was racially motivated, However Flanagan was black and often accused his colleagues of showing racial 'bias' towards him.
Jeffrey Marks, The President and General Manager of WDBJ stated that when Flanagan was terminated, Authorities had to be called in order to have him escorted off of the property.
Marks described him as an "Unhappy Man" and said that he was very "difficult to work with" because he was always the kind of person that looks out for "people to say things he could take offense to"
"Eventually after many incidents of his anger coming to the fore, we dismissed him. He did not take that well," Marks explained.

Deon is a Thought-Leader, Philosopher, Researcher, Entrepreneur, Internet marketer, and Social-Media extraordinaire.

After spending years studying the inner workings of the Cyber world, Deon has been given many titles as a direct result of his expertise on a wide array of platforms -- both online and off.

But whether the subject is Marketing, Advertising, Blogging, Branding, Web Metrics, Systems Design, Advanced Social-Media integration, Research, or Investigation -- Deon has definitely earned a prominent name for himself within the cyber community.

However, the only title he actually values is... "Christian"

Latest posts by Deon (see all)