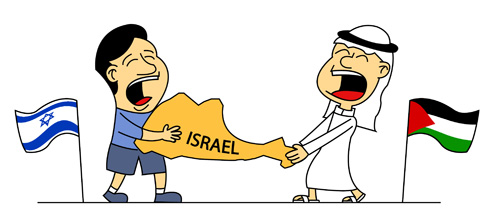 On July 8, 2014, Israel began its ground-offensive known as Operation Protective-Edge — in which it entered Gaza to stop the terror-cell know as Hamas from firing Rockets into Israeli cities.
Since the beginning of the offensive, we have witnessed quite a stir of emotions in the International community with some in support of the Israeli offensive while others oppose. On top of this, the reporting of the conflict by many mainstream-media outlets has been somewhat biased against Israel — painting them as the aggressors.
But with all this taking place, It it sad to see that many people (Americans included) do not know why this fighting is actually occurring. If you listen to many in the mainstream media, you may be tempted to think that this conflict is mainly over land, resources, and power.
Although this is usually the case when a nation goes to war with another nation — this is NOT the case with Israel.
Israel is fighting for one thing — The Right to EXIST.
The Video below will equip you with virtually everything you need to understand the conflict taking place in the middle-east as we speak.

Deon is a Thought-Leader, Philosopher, Researcher, Entrepreneur, Internet marketer, and Social-Media extraordinaire.

After spending years studying the inner workings of the Cyber world, Deon has been given many titles as a direct result of his expertise on a wide array of platforms -- both online and off.

But whether the subject is Marketing, Advertising, Blogging, Branding, Web Metrics, Systems Design, Advanced Social-Media integration, Research, or Investigation -- Deon has definitely earned a prominent name for himself within the cyber community.

However, the only title he actually values is... "Christian"

Latest posts by Deon (see all)